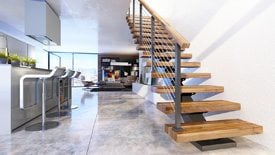 The Benefits of Viewrail Flight Floating Stair Systems
You've Never Seen Anything Like This
Viewrail Flight is a floating stair system designed to add space and modern flair to your project. When combined with thick stair treads and cable railing, Viewrail Flight creates a stairway that is truly revolutionary. These mono stringer systems are built from cold rolled steel, feature unparalleled on-site adjustability, and are paired with immaculate thick stair treads. From your initial inquiry to the end of installation, you'll have a first-class experience with Viewrail Flight every step of the way.
A System Fit for Your Project
Our team of designers is ready to listen to all the little details that make your project unique. They'll collect your measurements and create a functional design that doesn't compromise on style. To ensure that your system fits your taste, you'll get to choose between dozens of wood species for your stair treads along with more than ten powder coat colors for your stringer.
Ample Adjustability…If You Need It
Minor measurement errors pose no threat to Viewrail Flight thanks to its adjustable bracket sys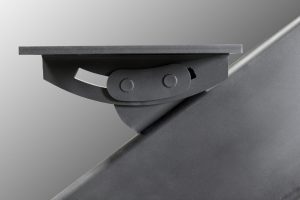 tem. Each tread bracket has two points of adjustability that allow you to dial in your treads to the specifications you need.
When you order a Viewrail Flight floating stair system, your stringer will arrive with the tread brackets locked in place at the measurements you provided. That means if your on-site measurements align perfectly with the measurements provided during the design process, you won't have to make adjustments at all. And if they don't? Simply loosen and slide the brackets until they meet your specifications.
To make these brackets even more superb, we upgraded their design—smoothing out their sides to create a flawless look.
Thick Treads Made for Your Style
Thick stair treads are the perfect accent to any floating stair system. Paired with Viewrail Flight, they become something more. Thick treads come in 24 wood species and are crafted to fit your exact measurements. Choose between traditional and butcher block tread styles that add sophistication and creativity to your design. Enjoy the hidden, sleek grooves in the back of each tread that hug the brackets for a perfect fit.
Start Your Project Today!
Ready to take your stairway design to new heights? Fill out the brief contact form at the bottom of our floating stair page. Once you give us your finished floor to finished floor measurement, our team will generate a quote and get you on your way to a stairway that soars.