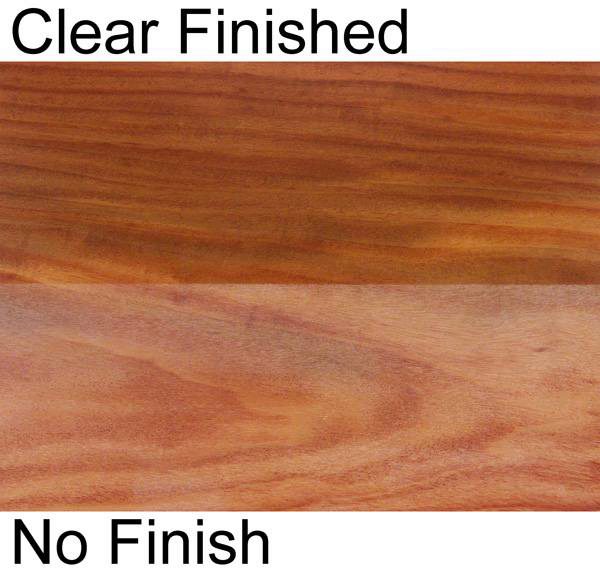 The Wood
Santos Mahogany is rich dark mahogany colored wood, which is a superior choice to genuine mahogany, (which it resembles in color), given Santos Mahogany's hardness and color fastness. It is stable and extremely durable as a stair component. Stair treads are particularly suited for use in Santos Mahogany because they will last for a long time without signs of wear. Handrail from Santos Mahogany resists dings, dents and scratches and finishes extremely smooth for a very rich stairway design. Fittings in Santos Mahogany are machined and sanded smooth. StairSupplies.com has grown to be one of the leading suppliers of Santos Mahogany fittings. Our stock is growing every day in this hard to get stair part. A hardness rating of 2220 on the Janka scale and a stability rating of .0030 make Santos Mahogany and excellent choice for a durable and long lasting stairway.
The Tree
Santos Mahogany is used as a substitute for honduran mahogany for its strength and resistance to damage. It is used in fine furniture and cabinetry, flooring, parquet, architectural details, highly decorative veneers, joinery and turnery.
Other Uses
Santos Mahogany exhibits a medium range of color variation between a light orangey/brown with yellowish overtones to a dark reddish/purplish brown. Most of the specie falls into the medium to dark orange/brown mahogany tone.
Color Change
Santos Mahogany undergoes a slight degree of color change with a slight muting of the color range over time.
NOTE: Once you receive your Santoes Mahogany stair parts please seal the ends ASAP, as the density and oil content of the wood makes it very susceptible to cracks.