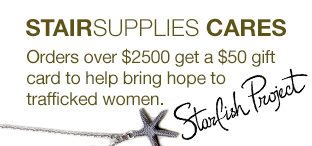 StairSuppliesTM is proud to be support Starfish Project in their effort to raise $150,000 in order to expand their ability to Provide Hope For Trafficked Women.
For every order over $2,500 StairSuppliesTM will be sending customers a FREE $50 gift-card that can be used on Starfish Project's web store. Most items range between $15 – $40.
To donate to Starfish Project's expansion effort directly, visit their Crowdrise campaign page.