Cable Railing
Shop aluminum or stainless steel cable railing systems from StairSupplies. Here you'll find the best steel guardrail for your home.
Check out our Express Cable Railing system which ships out in 2 days for a quick and easy install.
Need something a little more customized? Our Signature Cable Railing has several post mounting styles, finishes, and post types. There is a solution for any project.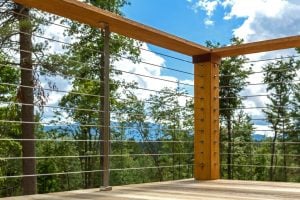 With a sleek and modern design, wire railing is the leading option for alternative railing on decks & stairs. We build components with precision and source materials from marine-grade stainless steel, so even the hardware is corrosion resistant. The durable wiring is a sturdy solution to secure your deck and stairs safely. Buy, get a quote, or check out some
completed projects
!
Cable railing for decks can be ordered with special tools & components to mount it on level surfaces, and stairs can be mounted at an angle. It's simple for the DIY homeowner to install horizontal cable railing systems into a deck or staircase. With an industry-leading powder coating process, cables are the perfect steel cable fence for your indoor or outdoor project.
Cable railing is a versatile system that comes with dozens of customizable options. Order the posts in either aluminum or stainless steel, and make them your own with one of our powder coats. Cable railing posts can be mounted into many different surfaces, such as wood, composites, concrete, and more.
When to Use Aluminum or Stainless Steel for Cable Railing
If you're looking to install a new system, you are probably wondering what material you should use. StairSupplies offers two different metal options: aluminum and stainless steel for cable railing. Both materials are highly durable and look great after installation. Aluminum is less expensive and it is also lighter, making it a bit simpler to install. Stainless steel however is denser and has more tensile strength which combines to provide a strong and sleek system for your railing project.
Our stainless steel posts for cable are available in 304 stainless steel. 304 is ideal for most guardrail systems. It's durable with a beautiful brushed look.
All of the cable railing wiring and components are made from 316 stainless steel.
DIY Installation Resources
Our cable railing systems are code-compliant and simple to install. Once you know the basics, tensioning lines of cable to posts is a process that any DIY homeowner can do. Get inspired by browsing through a few of these cable railing projects, then read our step-by-step guide on how to install cable railing.
About Our Cable Rail for Decks & Balconies
Cable railing is perfectly suited for decks and balconies, particularly if you have a great view to show off. The thin, minimalist design of the wire cable railing system keeps your focus on the landscape beyond. Metal wiring is a safe guardrail for elevated decks or balconies — when tensioned properly it will keep your guests completely safe. The deck railing keeps your views wide open, while sleek cable lines allow the breeze to flow through.
Flexible and simple to install, our cable railing systems are ideal for deck renovations or reconstructions. Stainless steel balcony wire is built to withstand outdoor weather conditions of all kinds. Pair the guardrail with wooden posts and metal accents for a sleek, modern look. Each component of the cable railing system is built to last through the life of your finished project. We support many different flooring options for outdoor decks and balconies: wood, composite, concrete, and many more.
From start to finish, our guardrail is simple for the DIY-homeowner to assemble. Each metal post arrives on the job site pre-drilled for simple installation and pre-engineered to meet the stair railing code. Stainless steel components are specially designed to fit the metal and wood posts on either leveled or angled runs.
Learn more about cable railing, or start planning your project with the Cable Railing Guide.