Product Description
The Hampton Series is the foundation of the turned newel industry. Incorporating rectangular blocking and elegant curves, Hampton Series Newels have the traditional design that customers have loved for generations. The 4560 3 1/4″ Newel is no exception. It's the staple of classic turned newels. Place it on any stairway and see why its design has passed all tests of time. The 4560 newel is available with any of our four decorative tops: mushroom, teardrop, acorn, and ball.
Key Features: 
10″ or 16″ mounting block
6 1/2″ decorative section above the mounting block
14″ plain middle
3″ decorative section below the top block
4″ top block
42″ and 48″ heights available
Mounting & Finishing Information
Turned Newels mount on a stair, landing tread, or floor using the Sure-Tite System. Finished Turned Newels will be coated with a Pre-catalyzed Lacquer to protect them against natural oils on skin.
Product Specifications
The 4560 newel is 3 1/4″ square x 48″ tall (but also comes in a 42″ tall option).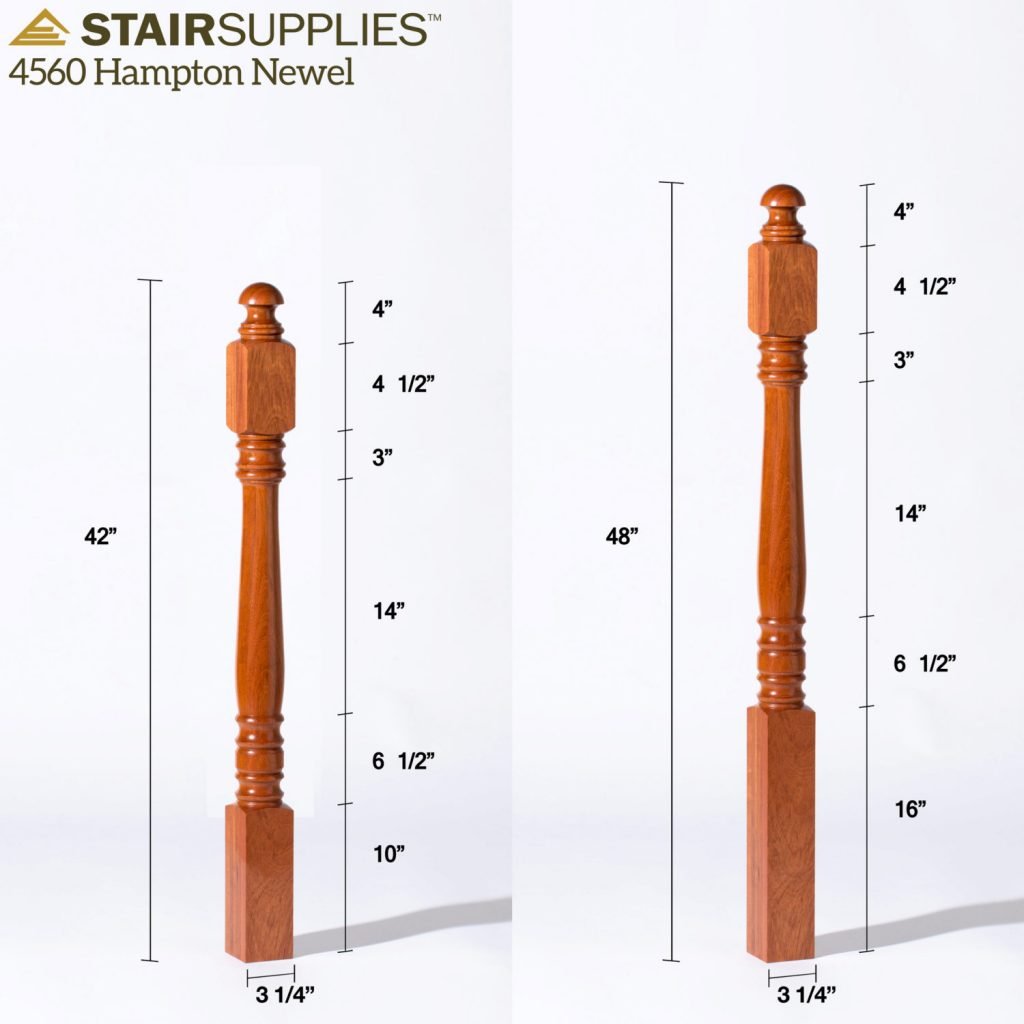 Wood Grain & Color Variation
At StairSuppliesTM we strive to match the grain and color of all of our wood products as closely as possible. However, due to the natural character of wood products, there may be instances in which a perfect grain and color match is not possible. By ordering from StairSuppliesTM, you acknowledge that there may be some variation in the grain and color of your wood products.
Completed Projects
This product has been used in the following "Completed Projects"
Product Q&A
---
Guest
I need rails for the entry to my home. There is one brick step (17″ deep) going from the sidewalk to the brick porch.
I'm looking at 4560 3 1/4″ newel with acorn top, 5005 Wood Balusters (3 on each side), 6710 handrail (3′ long) and 6006 Shoerail (3′ long). Will this set-up work? Should the handrail and shoerail have plow? If so, what size? I plan to paint it white.
Thank you for your prompt response.
Support
Hi Karleen,
It sounds like that would work. Because the 5005 baluster has a square top and bottom, you will want to plow the hand and shoe rail. For this baluster, you'll want the plow to be 1 3/4″. Even though this all sounds like it will work fine, we strongly recommend sending pictures and measurements of your project to sales@stairsupplies.com so that we can give you a more informed opinion. Please let us know if there's anything else we can help you with.