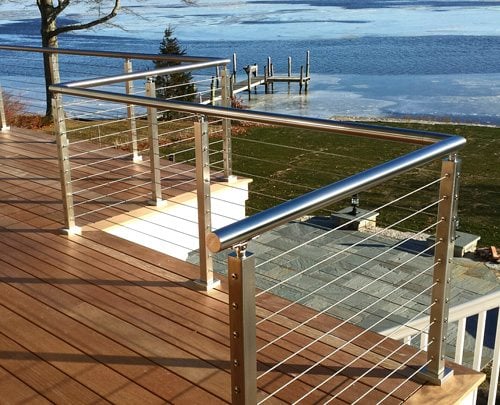 Handrail for Cable Railing
You've decided to install a beautiful new cable railing system. You know you want stainless steel posts, but you're not sure what handrail profile would look best with your project. There are so many options out there, and frankly, it's a little overwhelming. That's why we've created this simple list to highlight the benefits of each of our main handrails for cable railing.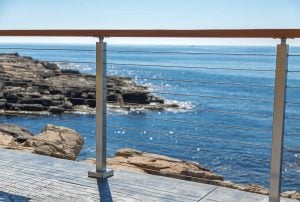 6000 Handrail
A rectangular design with ⅛" roundovers at each corner gives this mission-style handrail universal appeal. The ultimate profile for modern homes, this wood handrail offers visual and textural contrast against metal posts. Just we powder coat metal posts a variety of different colors, we can stain the 6000 handrail to make your post & handrail combination match your individual style. In most cases, the 6000 Handrail is manufactured from two pieces of wood that are face glued together to achieve the handrail's height. For the same profile manufactured from one piece of wood, check out the 6002 handrail.
Metal Handrail
For those who appreciate systems with a uniform look, the Metal 1"x2" Handrail is an excellent option. It's available in stainless steel or aluminum. In addition, metal handrail can be brushed or powder coated to match the exact look of your post. Furthermore, the 1"x2" dimensions of the handrail blend perfectly with our 2"x2" posts, leaving you with a streamlined system that flows together seamlessly.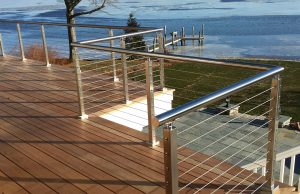 Round Metal Handrail
Compatible with Universal Top Cable Railing Posts, Round Metal Handrail intertwines the modern look of metal with the gentle warmth of round railing. When you order this handrail alongside a cable railing system, we'll make sure to send you curved brackets that will cradle your handrail on top of the posts. Altogether, combining metal posts with Round Metal Handrail gives you a stand-out system with beautifully blended angles and curves.
6004 Graspable Handrail
In an effort to include products that can meet your local code needs, we have recently introduced more handrail options that make excellent graspable handrails. The 6004 Graspable Handrail is one of those options. With a contemporary, rectangular design reminiscent of the 6000 Handrail, the 6004 Handrail has a modern look & a graspable profile. Though the 6004 Graspable Handrail fulfills many handrail code requirements, we strongly recommend researching your local code before selecting a handrail for your cable railing system. Fortunately, if you find that the 6004 Graspable Handrail will not work for your needs, we have a second, excellent handrail option.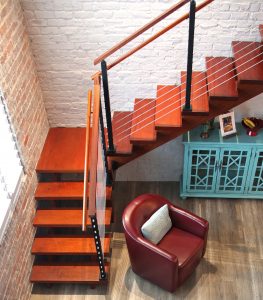 6040 Handrail
With its round profile and flat bottom, the 6040 is widely regarded as an ideal graspable handrail solution. Adults and children can easily grasp and glide over the smooth, slim design of this handrail, making it an optimal product for those you desire extra safety for their system. Furthermore, the curves and the wood stand out from angled, metal posts. This gives your home or staircase an ideal blend of modern and natural design. Like the 6004 Graspable Handrail, the 6040 Handrail is compliant with many codes. However, we still strongly recommend checking in with your local code requirements before purchasing any handrail profile.
Your Railing, Your Way
Your handrail is both a safety feature and an accent for your cable railing system. Generally speaking, round handrails are easy to grasp. Mission-style handrails offer extra-modern appeal. Wood handrails provide visual interest to your system by contrasting the metal posts. Metal handrail creates a uniform appearance by matching them. Each profile brings its own personality to your system. Find one that matches yours and let us know what you love. We'll make it for you, so you get your railing, your way.