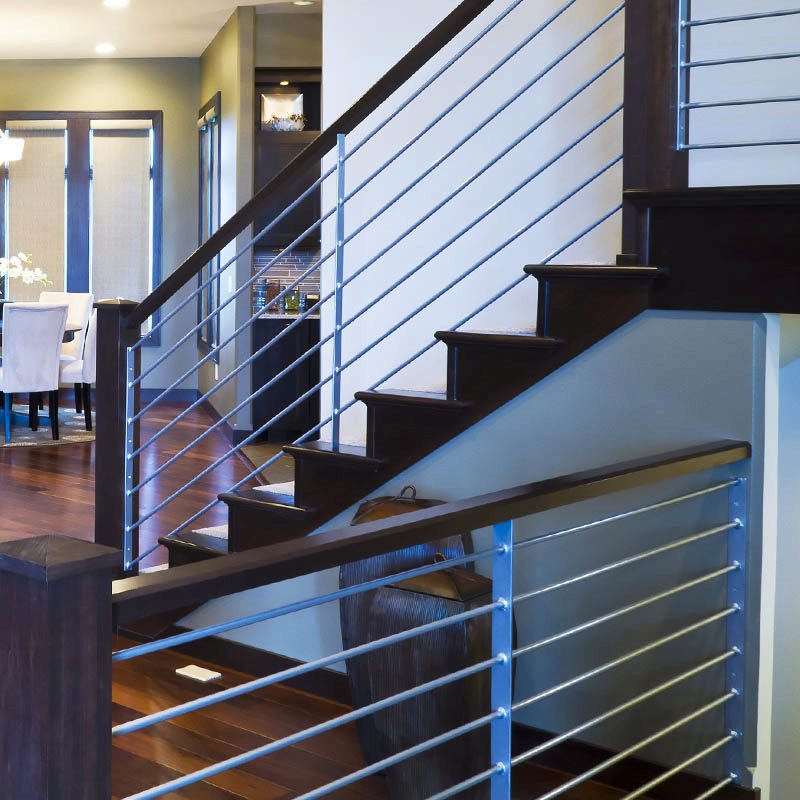 Cable rail construction
Cable Rail Construction Considerations
Cable rail construction technique questions compromise more of our time than anything else. We are spending a great amount of energy helping people to create plans for decks, stairways and balconies. Cable rail is not hard, it is not difficult for a carpenter to install. It is different. Here are the main planning differences.
Post Height is Fixed
Posts are closer
Handrail strength is imperative
Fixed Post Height
Fixed Post height challenges the thinking of most carpenters. We have been so accustomed to trimming down a post and adjusting baluster to height to match the posts and the handrail that it requires a new and more detailed thinking about posts when running cable rail for a stairway. Posts are typically pre-drilled for the the correct cable spacing and therefore the post height is determined by the number of holes and the handrail height cannot vary. One of the best ways to work through this problem is to have 36″ handrail height posts for the stairway and 39″ or 42″ handrail height posts for the balcony. First of all a 39″ or 42″ height balcony is safer and it is required in most commercial applications. Secondly, it allows the handrail of the stairway to run into the side of the post rather than trying to create a flowing handrail across the top. The viewrail system makes this work because we offer a combination of standard installation kits and inside post mount kits.
Posts must be close
Posts must spaced much closer together for cable railing than for other railing system. The recommended post spacing is 3′-4′. There is a great temptation to space post much farther apart. Some will stretch the limits to 4 1/2′ or 5′ while others want to go as far as 8′. The main reason for keeping posts closer together is to keep the cable from deflecting. When posts are spaced at 4′ and proper cable tension is achieved, then the deflection of the cable with typical forces is about 3/8″. The deflection increases in a logarithmic fashion as the posts get spaced father apart.
Handrail strength is imperative
Cable rail is frequently tightened to about 150lbs and there are from 10 to 12 runs of cable. The forces that are applied are tremendous. There is no practical way to build a post that withstand these forces, so a the posts must be tied together. The handrail is the piece that keeps the posts from bowing and pulling together. Because there is so much force on the handrails, proper fasteners and methods must be used. When handrails mitered together it is essential that adhesives and screws are used. If the handrail is secured to the top of a wood post, then steel fasteners need to be employed to make this work properly. Carpenters must take extra care in the fit and strength of all joints when installing handrail to keep the system working for the long term.
Rewards of Cable Rail
A properly installed cable rail system is a beautiful and rewarding system that has a modern unobstructed view. The Viewrail cable rail system is made from 316 marine grade stainless steel which will last for many years providing lasting beauty.