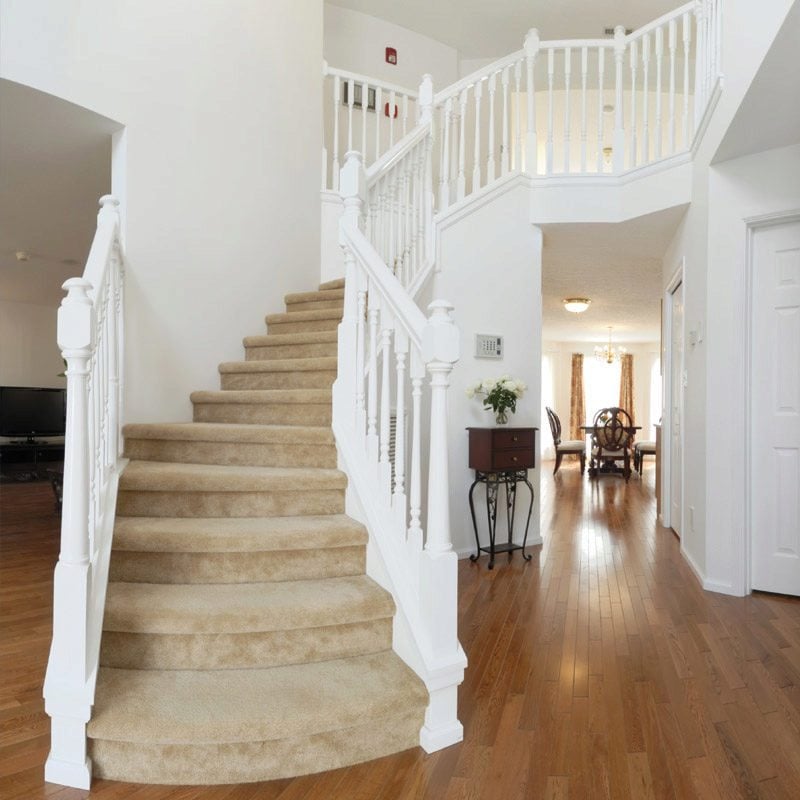 Beautiful Stairways
StairSupplies takes tremendous pride in how their products turn out. When customers submit photos of their beautiful stairways to StairSupplies, it gives the craftsmen tremendous satisfaction.
This bending handrail is a sophisticated, elegant design. The handrail is complemented beautifully by the balusters of mixed designs. The stairway simply glows. As you can see, the area surrounding the stairway looks pretty bare. There are only a few potted plants to accent the space – no pictures on the walls or ornate vases. That is what a beautiful stairway can do. It can be the centerpiece of a home with or without a vast number of complementing pieces.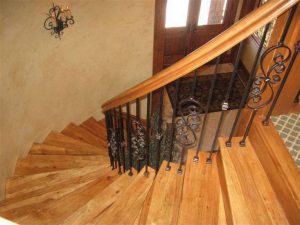 This next stairway largely focuses on the box newels. Box newels are a great way to begin and end a stairway, but it is sometimes forgotten that they look great in the turn of a staircase. You can see how the stairway only goes up four steps before it reaches the landing. On the open side, the customer used a baluster to turn the stairway. This functions well because it is a great way to connect a new piece of handrail and it gives a bit of variation from the standard balusters.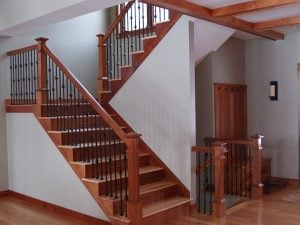 This picture gives a great glimpse at the StairSupplies difference. Before this customer remodeled their stairway, they chose to put carpet over the treads. This can look good in the right circumstances, but in most cases, wooden treads give the best look to a stairway. Also notice the color scheme. In the "Before" picture, the stairway lacked a coherent theme. The carpet was grey, the handrail a simple wood color, and white balusters. It looks mismatched. However, after the stairway was remodeled, the customer chose an elegant black and white scheme that works a lot better with the surrounding area.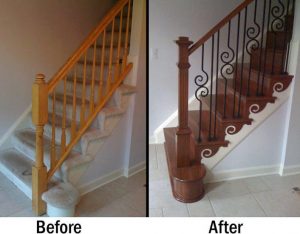 If you choose to have your stairway built or remodeled by StairSupplies, please don't hesitate to send in pictures of your products. The craftsmen love to see their creations installed!