Product Description
As centers of activity in the home, decks and stairways should have plenty of space. Narrow or confined stairways, decks, and balconies with normal railing may feel crowded and claustrophobic. Side Mount Posts make room for more. More entertaining space. More family space. More life space. Plated, bump-out, and slim mounting options allow these posts to adapt to almost any environment. So if you need more room in your life, there's a Side Mount Post ready to do the job.
***If you are ordering Rod Railing Posts for an angled run, please make sure that you have precise measurements (within .25 degrees) of that angle before you place your order. Indicate that measurement in the notes section when you are checking out.
Key Features Bump Out Slim Side Mount Flat Top 2" Square Post:
Bump Out plates allow posts to pass deck overhangs

Achieves the cleanest possible look with slim & concealed plates

Eliminates gaps between posts and handrail with Flat Top

Flat top ideal for level runs

Available in lustrous Brushed and colorful Powder Coat options
This is StairSupplies' newest product. If you love the rod railing look but don't see exactly what you're looking for, give us a call. The product is continuously being refined and we may have the solution you need.
*Posts sold individually, all associated hardware are sold separately
Post Configuration Details: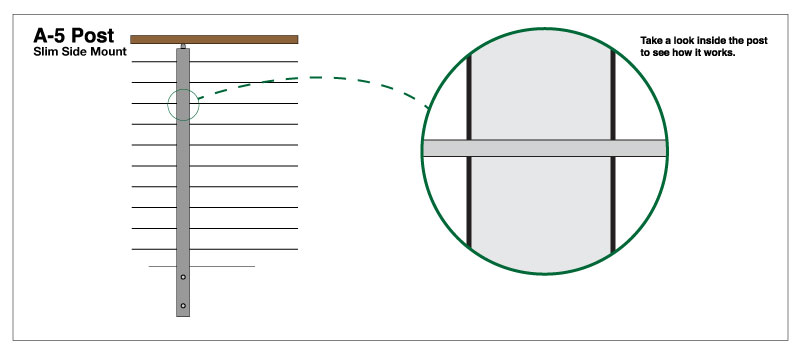 "A-5" – The "A-5″ post is designed to be an intermediate post on level runs. It has level holes drilled on both sides of the post. The rods will simply pass directly through the post, no additional fittings are required.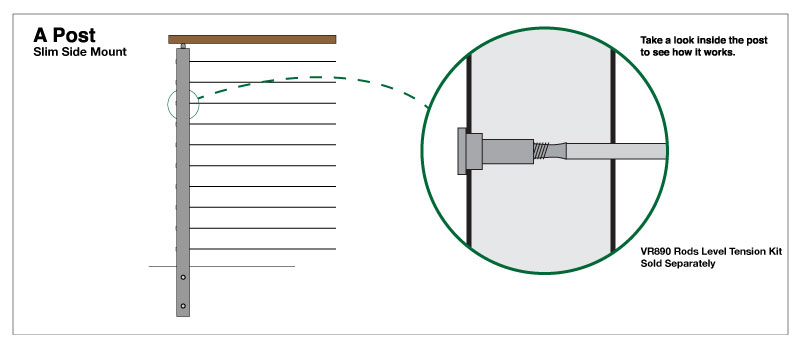 "A" – The "A" post is designed to be a starting post on level runs.

"S" – The "S" post is shipped without any holes pre-drilled in the post itself (handrail bracket and foot still come pre-drilled). Select this post if you have an application where rods are not necessary but you still want to run handrail, or for a custom application where you want to drill the holes yourself.
Our team will reach out to you to receive the angle of your stairs if any angled posts are ordered.
Posts are manufactured 1″ shorter than their defined height. This will allow you to be at the exact height with our 1″ tall metal handrail, or slightly over with our 1 5/8″ tall 6000 series handrail.
Mounting feet come with 4 holes (6 holes on "B" posts) for 3/8″ fasteners. The handrail bracket also comes with 6 pre-drilled holes to secure the handrail.
The standard brackets that come with our posts are designed to work with flat bottom handrail, if you order our Round Metal Handrail 2″, we'll automatically select rounded brackets to work with the handrail. If you have round wood handrail or are ordering an additional post for your project, please specify in the notes if you need a rounded bracket.