What is a Stair Tread?
When you think of stairs, treads are likely one of the first things that come to mind. As the piece that you step on when you ascend a staircase, stair treads are responsible for getting you from one floor to the next.
Treads can appear with or without stair risers, which are the pieces that attach to the backs of treads on most traditional staircases.
While most traditional staircases still use risers, modern trends are putting heavy design emphasis on the treads themselves. For this reason, when you are shopping for treads, you will find that there are many more styles available than you may have anticipated.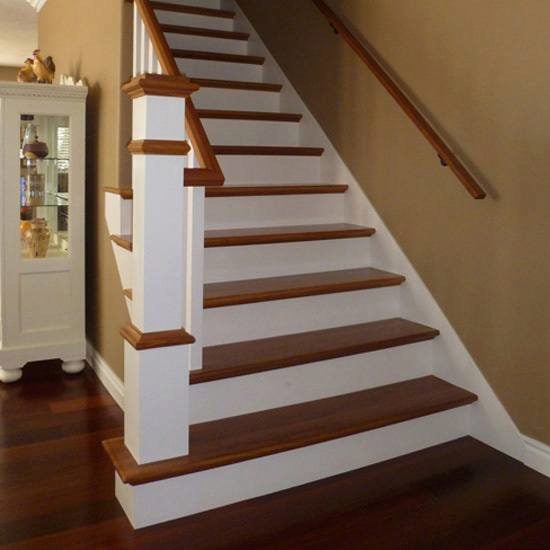 At StairSupplies™, we believe that treads are more than something you walk on. Rather, they have high visual impact and set a tone for the rest of your interior design. That's why we manufacture premier wood stair treads that are top of the line in both form and function.
We handcraft our stair treads from wood that is select grade quality or better so you get the best products on the market. Our wood offerings are expansive, so you can create treads that look amazing without a stain. However, if you prefer the look of stained treads, you can have our finishing experts apply a stunning stain to your products that will suit the aesthetic of your home.
Tread Anatomy
Stair treads have their own anatomy, and it is helpful to know what to call the different parts of a tread when you are ready to place an order. One aspect of a tread is the nosing. The nosing is located on the front of the tread, the side that will face you as you walk up your stairs. The thickness of a nosing can vary depending on the style of the tread, and in some cases, the customer's preference.
Many treads also have one or two returns, or rounded edges on one or more exposed sides of the tread. If your stairs run up against a wall, the side along the wall will not need a return, but the opposing side may. Returns provide a smooth and finished look when a side of a staircase is exposed. If you have walls or stringers on both sides of the treads, you may not have any returns at all. Conversely, you may choose double return treads, though that would only work on staircases with two exposed sides. If your staircase is up against a wall, you will select either one side with a return, or no return at all.
To determine whether you need a right hand return or a left hand return; stand at the bottom of the stairs and look up. If the right side is exposed (not up against a wall, stringer, or other structure) you need a right hand return (RH). If the left side is exposed then order a left hand return(LH). If both sides are exposed then order a double return. Double return treads can be ordered with the specific size that you need.
Measuring Staircase Treads
When we refer to tread measurements, we use the terms depth, width, and thickness. The depth of the tread refers to the measurement from the front of the nosing to the back of the tread (where the tread would meet the riser on a traditional staircase). The width of the tread is the opposite from the depth. On treads with one return, the width is the measurement from the inside of the return to the edge of the tread. On double return treads, the width is the distance from the inside of one return to the inside of the other (this is typically referred to as the Throat Cut). The thickness of the tread refers to how "tall," or thick, the wood is. In some cases, the thickness of the nosing may differ from the thickness of the tread.
Comparing Stair Treads
| | | | |
| --- | --- | --- | --- |
| Ideal for New Builds | Ideal for Renovations | Ideal for Floating Stairs | Ideal for Modern Designs |
| 1" Wood Stair Treads | False Treads | 2 1/2" Thick Treads | Craftsman Stair Treads |
| 2" Wood Stair Treads | Replacement Treads | 3" Thick Treads | Thick Treads |
| Starting Steps | Hand Scraped Replacement Treads | Hand Scraped Thick Treads | Hand Scraped Treads |
Tread Style & Design
Wood Stair Treads
StairSupplies™ offers beautiful treads that are handcrafted in our shop just for you. Our standard treads are 1" thick by 11 ¼" deep in widths of 36", 42", 48", 54", 60" and 72". While those are the standard dimensions, we welcome and are able to fulfill most customization requests.
We have two primary styles in our standard tread offerings–Traditional Wood Stair Treads and Craftsman Stair Treads. The traditional profile includes rounded features, while Craftsman Treads have squared, angular edges.
At StairSupplies™, we understand that your stairs make a big statement. That's why when you order wood stair treads from us, we give you more than fifteen stains and twenty wood species to choose from. In addition, we provide numerous tread styles that will provide enchanting elegance to your staircase. Below you will find a comprehensive guide to all of our main tread offerings so you can determine what profile will be the perfect fit in your home.
Replacement Treads
Replacement Treads have a 1/2″ thick body, and a 1″ thick nosing. We are able to produce thicker nosings when you specify your desired thickness in our Custom Tread Builder. This can help your Replacement Treads achieve a thick tread look.
Designed to fit over your existing structural stairs, Replacement Treads will give your old staircase an updated appearance. They also offer easy installation, and we're happy to make the process even simpler with our ten step Replacement Tread Installation Guide .
Thick Treads
With so much emphasis on contemporary designs, Thick Treads are constantly increasing in popularity. At StairSupplies™ we consider any tread at 1 ½" or thicker to be a "thick tread." Thick Treads are perfect for floating stairs and modern stair designs. If you need the underside of your tread routed to accommodate and hide floating stair brackets; let us know! Our CNC machine allows us to route any design for your needs.
Hand Scraped Treads
If you enjoy textured styles, hand scraped treads could add the perfect, textural touch to your project. Hand scraping provides shallow grooves through the stair tread which are individually created by one of our many artistically minded craftsman. We evaluate each piece of wood before initiating the scraping process to ensure that we create a quality finished product. The end result is a stairway that looks entirely natural. Customers who select Hand Scraped Treads frequently distress their furniture to give the entire home a cohesive style.
Distressed Stair Treads
For a natural look with charm and character, you may want to consider distressed stair treads. We manufacture distressed stair treads in any of our Thick Tread styles. Our carpenters personally distress each tread so each piece has distinct features. The distressing is done on both the edges and face of the tread. Distressed stair treads look excellent in homes that feature other distressed furnishings, however, they also blend well in other applications. Feel free to fill out our wood design help form for more information and assistance designing your tread project.
False Treads
False treads are small ends of treads that can be placed on the exposed sides of carpeted stairs. This gives your staircase the appearance of being made of hardwood beneath the band of carpet that runs down the middle.
Perfect for stairs where construction treads are already secured and will include carpet. False treads are a simple, fantastic way to elevate the look of your stairway.
All our false treads have a 1/2″ thick body with a full 1″ thick nosing. They are 6 1/2″ wide, with a depth of 11 1/4″. Left & right hand return false treads have an additional 1 1/4″ in width due to the attached return. The body of the tread is 1/2″ thick, making it a close match to the thickness of the carpet pad. False treads are designed to be cut and trimmed by installers on the job site so your treads will have the perfect fit.
Any structure that is acting as a base for the false treads needs to be secure. Dimensional lumber such as 2 x 10's, 2 x 12'x, or 2 x 4's serves as a great foundation for false treads. We recommend using a construction adhesive and screws to attach your treads to a structural base. In addition, we round the returns on our false treads to give them a fantastic, finished look. If you need to trim the returns, you can use a belt sander or palm sander and 60 grit sandpaper to get them back to their beautiful, rounded shape.
Starting Steps
A stair starting step can serve as an excellent accent piece for your staircase. The starting step's prominence increases the visibility of the stairway, inviting people to journey up to the second story of your home.
Our starting steps are carefully crafted by hand in our shop. The tread and riser that compose a starting step are manufactured by our expert craftsmen in our Indiana facility. In addition, each riser is made of solid wood and is cut and bent until it matches the curve of the stair tread.
Starting steps can be ordered with one or two beautifully rounded ends. Like stair tread returns, the ends of a starting step should be curved when they are exposed. This allows them to accept volute fittings for handrails. The ends of the starting step may also be used to place a box or turned newel at the start of your stairway.
We can create the stair treads and risers to fit in almost any stairway layout, including curved or rounded stairway steps, because we are accustomed to modifying our starting steps to fit customers' needs. In fact, our 8010 starting step is one of the most commonly customized items that we sell. We have detailed drawings of each of our starting steps available on our website so that you can design your layout prior to installation. However, if you have any questions about customization, or would like to make a custom specification request over the phone, feel free to give us a call.
Landing Treads
Landing treads serve as the transition point between a staircase and either carpet or hardwood flooring. In addition, landing treads can be placed on a balcony that overlooks the lower level of the home. We can provide landing treads in any of our exotic or domestic woods, and they are available in standard or custom sizes.
We do our best to send you the exact lengths that you specify on your order. However, we may need to split your landing tread and send you shorter sections that come to the same number of linear feet. While this is an industry standard, we do what we can do avoid that scenario whenever possible. If your project cannot work with shorter sections, let us know and we will do everything possible to manufacture and ship your order as specified.
Floating Stair Treads
Modern and useful for conserving space, floating stairs are increasing in popularity. One of the main components of floating stair systems are treads. Thick treads are the most widely used treads for floating stair applications. Using thick treads on floating stairs increases safety, but also helps contribute to the staircase's contemporary design.
Structurally, we recommend putting treads that are at least 1 1/2″ thick on dual stringer floating stair systems and 2 ½" thick on single stringer floating stair systems. This increases stability and helps narrow the gap between each tread. However, we also like to stress the importance of consulting your local code requirements before purchasing your floating stair treads as they often vary from state to state and even county to county. In general, the thicker the treads of your floating stair system are, the smaller the gap between each tread will be, which accommodates stricter code requirements.
Winder Stair Treads
A winder tread is used when a staircase needs to change directions. We sell both two and three piece winder treads that can turn to 90 degrees. This allows you to make smooth transitions in your stairway.
When you purchase winder treads, you will receive them oversized so that you can cut them to your exact needs on the job site. We welcome requests for customizations in special application scenarios, and we will do what we can to meet the specifications your project requires.
Custom Tread Build
StairSupplies™ manufactures every part to order, which means that we don't keep any of our wood products pre-made on a shelf. Instead, we handcraft each of our wood products just for you when you place an order. Since we do our own manufacturing, we are able to meet most custom size and dimension treads without adding additional days to our lead time.
We offer customization options for Traditional Stair Treads, Thick Treads, Replacement Treads, and Landing Treads. We're also able to manufacture custom S4S boards, which are boards with flat edges on all 4 sides that can be used for creative projects like making trim pieces for shelving units.
At StairSupplies™, we understand that finding the perfect treads for your staircase should be exciting and easy. That's why we created the Custom Tread Builder that allows you to simply enter the dimensions and material type that you desire for your application.
How to Install Treads
Tools You'll Need
To install wood stair treads, we recommend using a construction adhesive or a good polyurethane glue. You will also want trim headed screws and finish nails. Make sure that you have at least two finish screws attaching an individual tread to each stringer to help prevent the tread from loosening over time. Though they are excellent for providing support to a tread, finish nails can work loose over time, causing the stairs to squeak. For this reason, they are not adequate for holding a tread on their own and should be paired with trim headed screws for added strength and security.
Planning Your Layout
Before you begin installation, lay out all of the treads and risers in their designated positions on the stairway. At this time, you can adjust the location of your treads and risers to find the most appealing blend of colors and grains. Take a look at your layout from multiple angles so you can be confident in your new design before the products are installed.
Beginning Installation
Begin your stair tread installation at the bottom of your stairs and work up. Before carrying out the rest of the installation process, double check to make sure that the treads you are about to install are at least 1" thick.
Once you have verified that your treads have the adequate thickness, go ahead and remove the construction tread. If your staircase has risers, begin by installing the first riser before installing the tread. If you have a closed tread system, we recommend installing a riser first, followed by a tread. Then, repeat the process until the project is complete.If you have a stairway that is exposed on either side, install the risers with the Skirtboard prior to installing the treads.
Lay one tread flat across the stringers' shim and shave the stringers as necessary so that the tread lies flat across the notches in the stringer. Your treads may be oversized by up to an inch so that they can be cut to fit correctly against your wall. If the treads are single return or no return, then cut down the rough end of the tread. Then, simply apply a small amount of polyurethane or other finish to the end grain.
If you are fitting your tread up against a Skirtboard, you may need to scribe the fit so that the end of the tread is flush with the Skirtboard. The front of the tread should extend past the face of a finished riser by 1 ⅛" to 1 ½", and any returns on the tread should extend 1 ⅛" to 1 ½" from the outermost point of the wall (including drywall and Skirtboards).
End grain is the most susceptible to gaining and losing moisture which is the cause of cracking. However, you can apply a finish to the tread to help slow and prevent this process. To achieve the best long-term results, apply a coat of finish to the back of the treads to reduce movement in the tread, which causes cracks and squeaks.
Once you have fit the tread to the stringers, remove the tread. Apply an adhesive to the stringers and install both screws and nails for maximum security. Move to the next tread up the stairway and repeat the process until your new, beautiful staircase is complete.
Tread Projects
Tread FAQs
What is the difference between stair treads and risers?
Stair treads are the most basic part of your staircase. They are the part that you step on to travel up and down your stairs. Risers are the part of the stairs that stand vertically and fill the gaps between stair treads. Risers appear on all classic stairways, but you won't find them on floating stair systems as removing the risers makes the treads appear as if they're hovering in the air.
What is nosing?
The nosing is the part of the tread that is facing you as you walk up the stairs. It usually hangs over the riser by 1 ¼".
When do I need a return on my tread?
You will need a return whenever one or more sides of your stairs are exposed (not up against a wall or a stringer). For stairs with one side that is exposed, you will want a single return tread. For stairs with both sides exposed, you will want a double return tread.
How do I know if I need a left or right return?
Stand at the bottom of your stairs and look up. If the left side is exposed, you need a left-hand return. If the right side is exposed, you need a right-hand return.
Why do you oversize your treads?
We oversize the width of our treads for a few reasons. The main reason is that no staircase is perfectly straight. That means that if we manufacture the treads at the exact width that is specified and the wall is a tiny fraction longer than the given measurement, the tread will be too short and will be unusable. By contrast, if we oversize the treads, you can be certain that you can cut them down to the exact length you need on the job site, so none of your beautiful custom stair treads will go to waste.
If I order a tread at customized specifications, will it still come oversized?
If you're ordering a customized double return tread, it will come at the exact length that is specified. We recommend that you give us your throat cut length 1/32" shorter than you need. It is impossible to fix a gap that's too wide, however, if we make the throat cut 1/32" short, it will either fit perfectly, or you can slightly shave down each return until the tread slides into place.
If I'm cutting my tread down, how can I help prevent tear out?
We recommend using a sharp wood blade, preferably a new, 80 tooth blade, when cutting down your treads. If you do not work with wood or saws on a regular basis, you may want to consult a friend or contractor who can help you with your cutting and installation.
Are treads made of one piece of wood?
We manufacture our treads out of multiple pieces of wood to make them less susceptible to warping. The glue joints in our treads provide extra stability that keeps moisture from having an impact on the shape and strength of your tread.
Will all my treads have the same grain and color variation?
One of the best properties in wood is its natural grain and color variation. Many people choose to use natural wood products because of the beauty in the varying grain and color patterns. Some customers prefer wood products that have less variation. While we will do our best to select wood with little variation, we want you to know that no natural wood product will be free of color and grain variation.
Staining your products may help decrease the appearance of color variation. Feel free to consult with one of our sales representatives for more information about the natural variation in wood, and for which wood species tend to have the most and least variation.
What is a throat cut?
For a single return tread, the throat cut is measured from the inside of the return to the other end of the tread. For a double return tread, the throat cut is the measurement from the inside of one return to the inside of the other.
What is the thickest tread I can get?
We manufacture treads up to 4 1/2" thick.
How thick do my treads need to be for floating stairs?
Treads for floating stairs should be a minimum of 2 ½" thick to be structurally sound on single stringer systems. Dual stringer systems are compatible with threads 1 1/2″ thick or greater. However, you may want to use thicker 3 ½" or 4" treads to minimize the gap between each step. We strongly recommend consulting your local code requirements before choosing a tread thickness for your floating stairs.
How do I go about replacing stair treads?
If you're looking for help installing replacement stair treads, check out our installation guide.
If you're interested in wood stair tread design help, you can fill out our brief contact form. A member of our team will look at your information and contact you within 24 hours to discuss your project.
Tread Articles
https://www.stairsupplies.com/resources/stair-parts/want-float-choose-thick-treads/
https://www.stairsupplies.com/resources/stair-design/create-new-look-replacement-stair-treads/
https://www.stairsupplies.com/resources/stair-parts/timeless-look-hand-scraped-stairs/
https://www.stairsupplies.com/resources/stair-parts/benefits-of-authentic-oak-stair-treads/
https://www.stairsupplies.com/resources/stair-parts/buying-right-kind-of-stair-treads/
https://www.stairsupplies.com/resources/stair-parts/custom-stair-treads/
https://www.stairsupplies.com/resources/stair-parts/maple-stair-treads-for-a-safer-and-aesthetically-appealing-stairway/
https://www.stairsupplies.com/resources/stair-parts/stair-tread-products-a-brief-on-the-variety/
https://www.stairsupplies.com/resources/stair-parts/wood-stair-treads-for-that-perfect-step/