Newels are the pride of StairSupplies™. We believe in strong first impressions and, since newels are often the first part of a stairway, it is only fitting that each newel should be crafted with the utmost precision. StairSupplies™ offers both Box Newels and Turned Newel Posts.
To learn more about Newels, including what a newel is, differences between them, newel style/design, and how to install newel posts, please see below. Our craftsmen are skilled at making every corner, line, and grain in the wood work together to create a newel that will leave you breathless. But, before we get too far into it, let's start with the basics.
Shop for Newels
What is a Newel?
Newels are the anchor of a stairway. A newel post serves as a support pole that helps bear the weight of the rest of the stairway. Newels are always found at the foot of a flight of stairs and you will also find newels at the top of the stairway in order to maintain symmetry. Further, newels are placed at junctures where the stairway changes directions. So for every change in direction on the stairway, whether it's a transition to a level landing or a 90º turn, you will need a newel to complete that turn. Newels differ from both balusters and intermediate posts that span the space between the newels. Balusters will greatly outnumber the newels in a stairway because they are placed very close together, often within only a few inches of each other. Balusters have a few different functions: 1) to provide some structural support; 2) to fill the large gaps between the newels, making your stairway safe and code-compliant; and 3) to give your stairway some extra flair. But let's get back to newels.
Box Newels vs. Turned Newels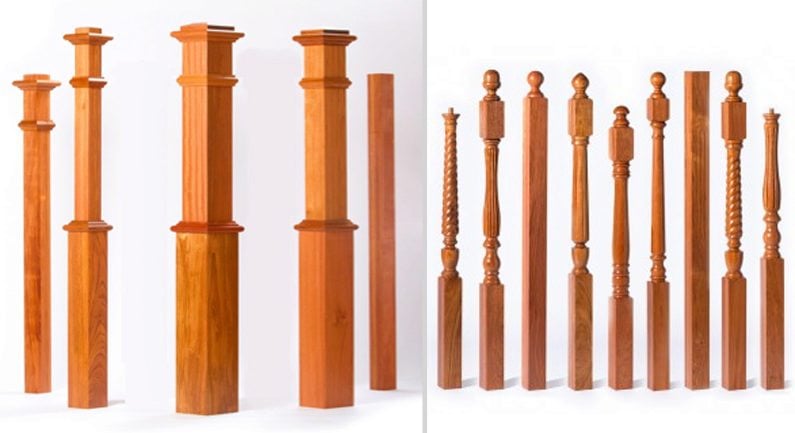 There are two main types of newels: box newels and turned newels. Both are great choices to give support to your stairway and they only differ in terms of stylistic preferences. Let's take a closer look at the differences between them.
Box newels (also called square newels) are just what the names suggests: square and box-shaped. They offer a strong statement at the foot of your stairway and look fantastic on both simple and ornate designs. StairSupplies™ offers a large variety of box newel designs, from the extremely simple box cut shape to fluted designs with differing thicknesses and decorative newel post caps. Quality craftsmen will manufacture all box newels by hand and can accommodate virtually any situation as all wood products can be customized. Box newels can also be manufactured to any wood species, and may be made stain grade with a finish or painted. You can find oak newel posts for stairs that beautifully match both the treads and handrail in your stairway.
Turned newels, like box newels, are offered in many variations. Usually, they are significantly thinner than box newels and may contain various kinds of rope twisting, fluting, and reeding. StairSupplies™ uses a precise, German engineered lathe for turned newels that is computer controlled for repeatable perfection. The turned newels are then hand sanded until they are completely smooth, offering no splinters or sharp corners. Turned newels, offered in any wood species, are the perfect statement piece at the beginning of a decorative stairway. They offer unique designs that, though often smaller than box newels, look perfect on an ornate stairway
Box newels and turned newels are similar in many ways but both offer various advantages. Box newels are bigger and make quite a large impression as the starting piece to your stair while turned newels are typically smaller but offer unique design characteristics. Both function perfectly well in their structural duties and both can be incorporated with either wood or iron newels. At the end of the day, it is up to you to decide whether a box newel or turned newel is perfect for your dream stairway.
Compare Box Newels vs. Turned Newels
| | | |
| --- | --- | --- |
| Newel Features | Box Newels | Turned Newels |
| Safe, Stable, Anchor Post | Yes | Yes |
| Generally Used with Traditional Designs | Yes | No |
| Generally Used with Ornate Designs | No | Yes |
| Completely Customizable | Yes | Yes |
| Used with Iron Balusters | Yes | Yes |
| Used with Wooden Balusters | Yes | Yes |
| Offers Decorative Roping & Reeding Options | No | Yes |
| Offers Decorative Recessed Panel Options | Yes | No |
| Offers Decorative Fluting Options | Yes | Yes |
Newel Style and Design
We are going to look in depth at the Colonial Elegance Series Box Newels. Within this series, there are seven main styles of box newels that StairSupplies™ manufactures. We will go over these seven styles so that we can get a basic understanding of what the differences are in these box newels. Plane box newels are premium, hand built box newels that complement nearly every kind of stairway. But don't let the name fool you because these newels are not plain; "plane" refers to the lack of milling on each face, so each face is flat. However, plane box newels are often accompanied with decorative newel caps and varying thicknesses along the newel for a simple, yet elegant look. Raised panel box newels are milled on our CNC machine with an ornate bit in order to create a beautiful raised portion on each of the four faces of the newel. These newels typically have flutings around the raised panel to give the panel a more textured look. Fluted box newels are also cut on our CNC machine in order to ensure precision on every newel. The fluting refers to the thin grooves that are cut into each face of the panel. Various different styles have different amounts of fluting, but typically there will be one to three flutes on each face of the newel. Recessed panel box newels are precisely the opposite of the raised panel box newels. They have one larger recessed panel on each of the four faces to offer some variety in texture. Recessed panel w/ cove box newels are, again, similar to the recessed panel box newels. But these newels have additional detailing inside the recessed panel that gives it a two-layered look. There is another recess inside of the original recess to add more visual interest and make each face of the newel resemble a cove. Chamfered box newels are similar to plane box newels, except the edges between the two shoulder trim sections (the part that extends out at a larger thickness toward the top and middle of the box newels) are rounded off. This gives the box newel a lot of interest, especially because approximately the first and last two inches of the section are left straight, allowing the newels to have a gradual rounding.
There are many different sub-categories within these seven styles, but we will let you explore them on your own. Further, there is a completely different style of box newel called the Craftsman Series Box Newels, but the differences between those box newels are more obvious to the naked eye, so we won't waste your time here with the differences. If you have any questions, please do not hesitate to call a StairSupplies™ representative toll-free at 1 (866) 226-6536.
Box Newel Caps

StairSupplies offers three different types of newel post caps. Each of these options are purely decorative and it comes down to stylistic preference in which you prefer. The pyramid cap is, as the name would suggest, a triangular cap that culminates in a single point at the top of the box newel. This cap works especially well with simpler box newels, such as the plane box newels because it adds a little more visual interest. The flat cap is recommended for some of the more ornate box newel designs, as you will want the emphasis to be on the beautiful fluting, recessing, or raising on the faces of the box newel. This cap is unassuming, yet elegant as it does not take away from the rest of the box newel. And the beveled cap is a mixture between the pyramid cap and the flat cap, as it features sloping edges. This cap perfectly complements box newels that already feature some kind of rounding in the faces, such as the chamfered box newels or the fluted box newels.
How to Install Newel Posts
Newel posts are the structural cornerstones of your stairway, so it is important that they are installed correctly. However, newels are relatively easy to install, so there is no reason to worry! As was mentioned earlier, a newel post must be installed each time the stairway changes direction, which means the number of newel posts that you have is going to vary significantly based upon your stairway design. Further, for code-compliance, a newel post is necessary on balconies where the length of the handrail is eight feet or longer. Therefore, if you have a sixteen-foot balcony, you will need three newel posts, one at the beginning, one in the middle, and one at the end. But if the balcony is eighteen feet, then it would require four newel posts as the distance between each post would be greater than eight feet if only three newel posts were used. Also, it is important to always check local building codes, as they may have additional requirements.
Learn how to install newels on stairs, with our newel video installation guide for installing box newels, and a link to a PDF for how to install turned newel posts. This video covers both new installs, and how to replace a newel post.
Click here to view our Newel Installation Guide.
Depending upon the type of newels that you have, the measuring will be different. For the installation of pin top newels, you simply determine the newel post height by measuring the height of the handrail at the point where the newel post will be installed. Alternatively, for a post-to-post system, measure the center point of the block on the newel post and ensure that it aligns with the center of the handrail. Balcony handrails must be at least 36" high, although some local codes require 42" handrails.
Using a sure-tite newel fastener is recommended for installing newel posts as it is one of the strongest mechanical fasteners available. When you install your newel post, StairSupplies™ recommends that you clamp a level to both sides of the newel to make sure that it is installed plumb.
Recent Newel Projects
Within our site you can find completed projects for box newels, and turned newel projects sent to us from satisfied customers who have used our newels and other stair parts. Below we're featured some great newels designs.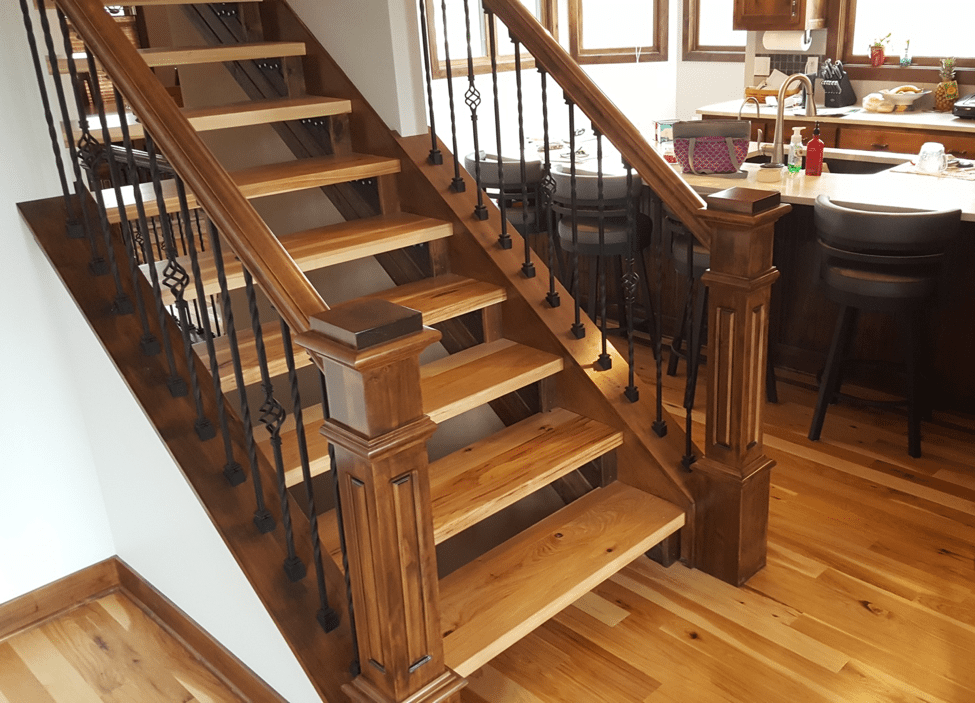 This project features the a 4791 raised panel box newel and fits extremely well with the straight lines of the wrought iron balusters and floating treads. The detailing on the raised panel adds that extra bit of intrigue to the stairway.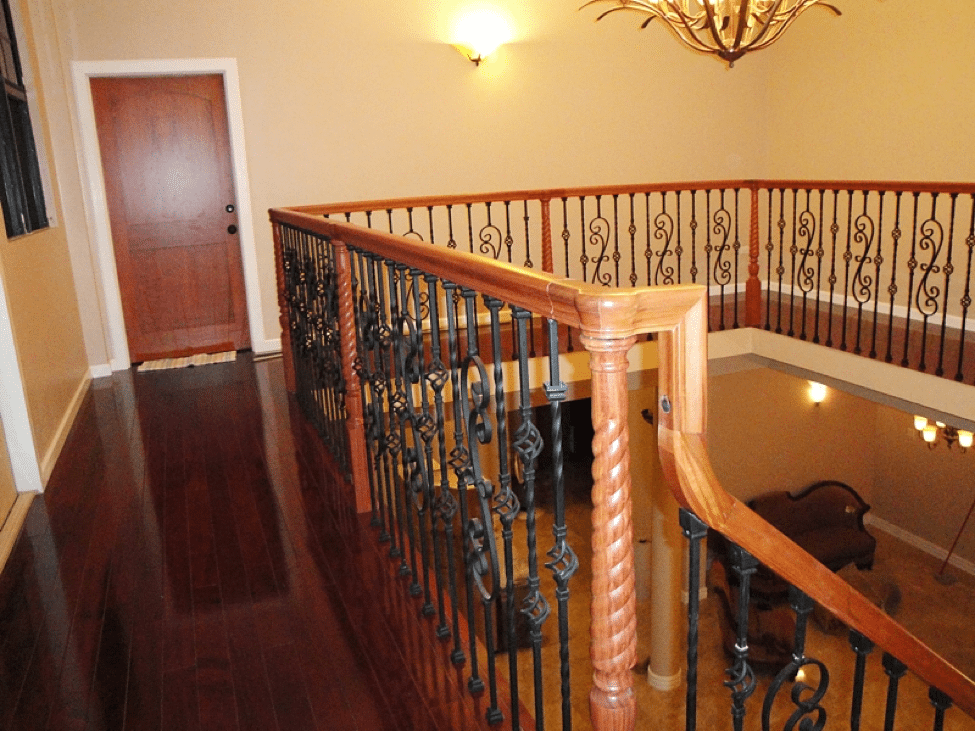 Featuring the 4444 Pin Top Rope twisted newel from the Victorian Series, this stairway is sophisticated and ornate. Turned newels are especially popular with the Scroll Series Iron Balusters, pictured here, as they complement the waves and turns of the balusters.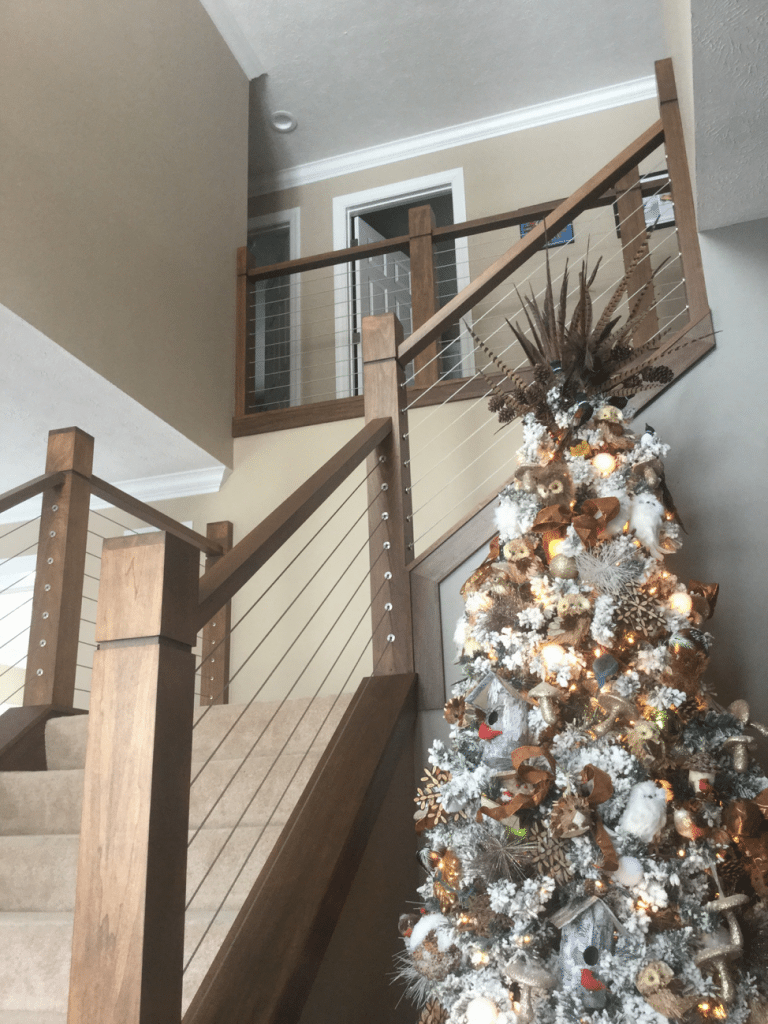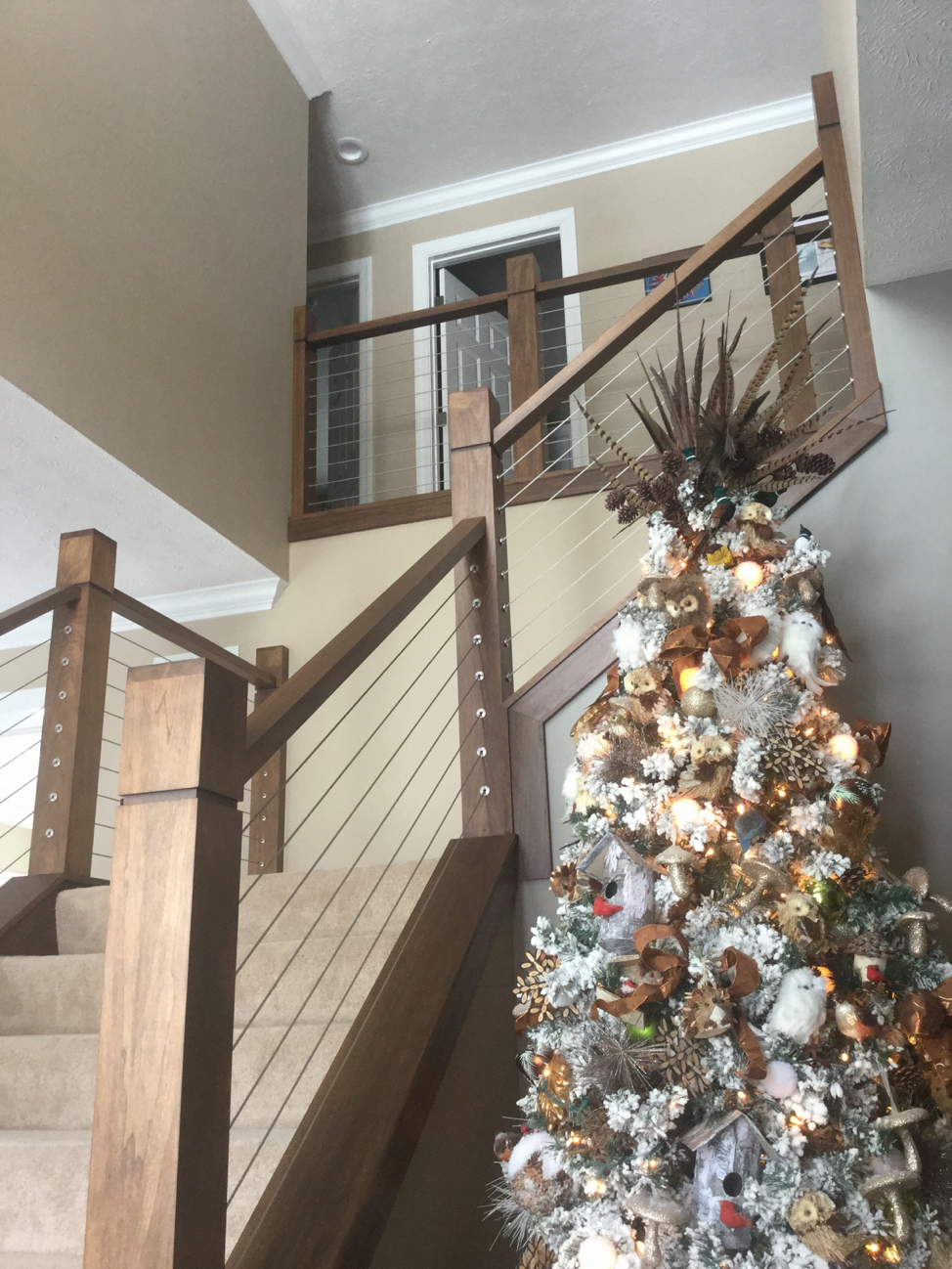 The 4240 Craftsman Series, square box newel, which this project features embody simplicity and elegance. The straight lines of the newel enhance the cable rail that takes the place of the balusters. It's a different take on traditional box newels, but the Craftsman Series Box Newels are perfect for modern, contemporary stairways.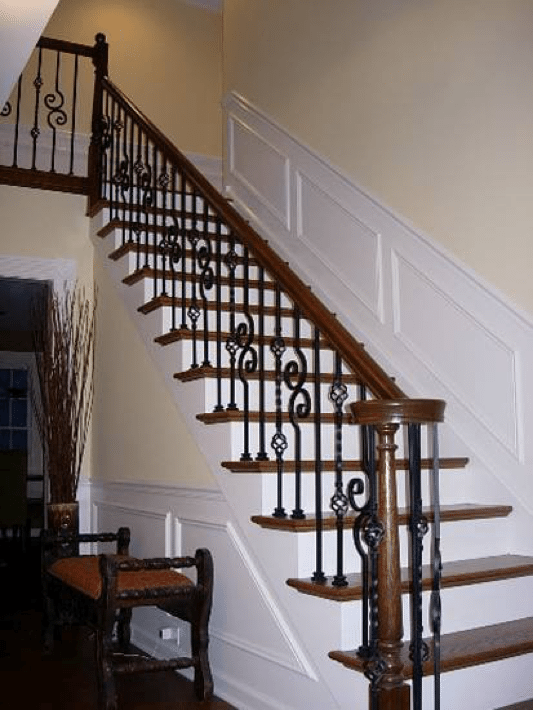 Volutes, the swirl on the handrail you see at the bottom, are very commonly used with our turned newels. This project uses a beautiful 4010 Pin Top from the Colonial Series and is paired perfectly with Scroll Series Iron balusters and double basket balusters to emphasize the baluster's natural curves.
Newel FAQs
Q: How do I know if my newels will be the right size for my stairway?
A: All of StairSupplies™ newels are made with a long block at the bottom of them that allow you to cut the box newels exactly to the size that you need them.
Q: Should I get all the same newels or should I get a variety of newels?
A: StairSupplies™ recommends that you stay within the same series of box newels for one project. However, many customers have built beautiful stairways by utilizing different newels from the same series. If you are unsure, please call us at 1 (866) 226-6536 and a StairSupplies expert will be happy to help you.
Q: I'm not comfortable installing my newels. Will StairSupplies provide the installation?
A: Unfortunately, we are not able to provide the installation of any stair parts. However, all of our stair parts come with installation instructions and we have made how-to videos available on our website. Further, if you call us, we would be more than happy to walk you through the installation process.
Q: How long does it take to get my newels?
A: All StairSupplies™ wood products are made to order, meaning we don't carry any wood products in stock. Most wood products have about a 12 business day lead time, but you may also call and ask about expedited production to see if your product is eligible.
Related Newel Articles