Enjoy your tour of our Stair Parts Manufacturing Plant.
You are welcome to visit us at 1722 Eisenhower Drive. Goshen, IN 46526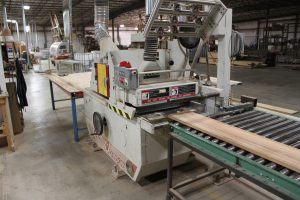 Our Mereen-Johnson Gang Rip saw is the gold standard in ripsaws. This machine guarantees a glue-joint quality cut for stair treads, risers, handrail, skirtboards and all of our critical stair parts. With this machine we are able to optimize our lumber usage while creating high quality products. Notice the laser guides at the top of the picture that allow us to be extremely precise when cutting the parts for your stairway.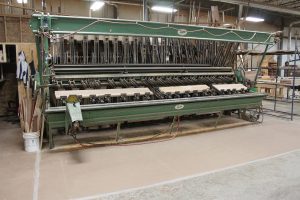 The most critical phase for creating quality stair parts is in the gluing phase. We use PVA type of glues that are applied to the proper thickness and clamped with our Taylor Clamp Carrier. This machine ensures straight and even gluing pressure for all of the stair parts that we produce.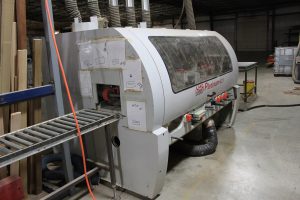 The quality finish and exact fit from our handrail comes from the fine quality tooling and attention to detail in our molding department. Our moulder has six cutting heads that are precisely moved with digital counters and set into position for repeatable perfection. Each of our cutting heads for handrail are made from precision ground carbide and are inserted into dedicated cutting heads.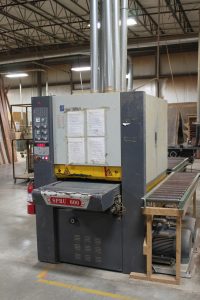 Stair treads are manufactured in a dedicated cell. Extra care is taken in the production of stair treads to ensure that the return is matched to the grain and color of the body of the stair tread. The returns on our stair treads are attached with biscuits and glue so that there are no nail holes. Our returns fit tightly to the body of the stair treads without loosening or gaping over time. Our stair treads are sanded to a precision thickness and hand sanded on the returns so that they look fine and smooth.