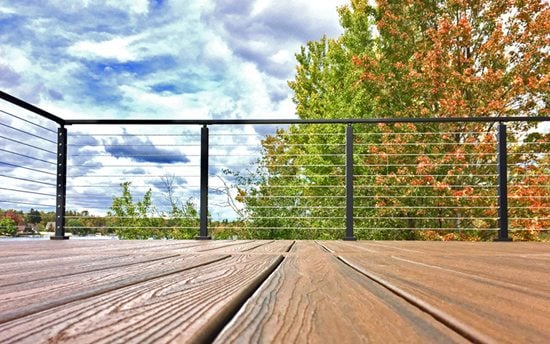 Cable Deck Railing Highlights
Enhance Your View
Cable railing is optimal for decks. When used as deck railing, the cable practically disappears from view as the natural surroundings come through. At StairSupplies™, we see hundreds of beautiful completed project photos each year from customers who love their new system. While you can find all of our completed projects here, we wanted to highlight a few of our favorite cable railing deck projects.
Coastal Cable Railing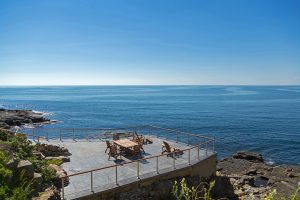 This home on the coast of North Carolina has a peninsula-like deck that uses cable railing to immerse the viewer in the oceanic scenery. The deck blends in with the rocky coast while the cable railing allows the salt-dusted breeze to flow freely throughout the area. For coastal applications like this one, we recommend using our 316 Stainless Steel posts that stand up to the salt-infused air. While many of our customers use metal posts like the ones in this project, some prefer wood posts or have existing wood posts on their decks. Fortunately, we have a cable deck railing solution for those scenarios as well.
Deck Railing for Wood Posts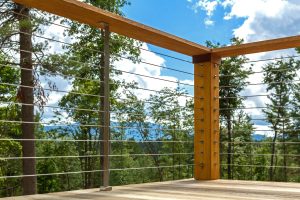 DriveTite is the perfect way for customers with existing wood posts on their decks to enjoy a cable railing system. Like our kits for metal posts, DriveTite components terminate inside of the wooden posts. This gives the system the clean, finished look that we are known for. For systems with either wood or metal posts, we recommend placing a post every 4' to minimize cable deflection. However, you can see here that the customer was able to use our slim intermediate posts to help keep the cable taut without hindering the surrounding view. Most people with wood posts also use wood handrail. When customers select metal posts, they can use metal or wood handrail.
Metal Posts with Wood Handrail

We love the look of wood handrail on our cable railing posts. In a wooded setting, the contrast between the posts and the handrail becomes even more spectacular. This cable deck railing provides a strong barrier with a contemporary look for this home in Nashville. Once again, the cable in this photo is almost invisible from a distance, so the customer can enjoy the changing leaves at the peak of fall.
All-Season Deck Railing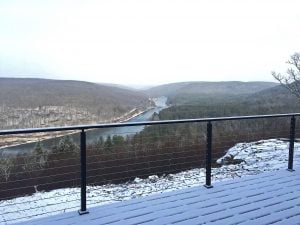 This project proves that incredible views still exist during the coldest months. While this customer may not be taking in this view from outside, the cable railing system still heightens viewing capabilities from indoors. Our cable deck railing keeps views unobstructed so that you can enjoy them from the deck, or by looking out of a window from the comfort of your home.
Find Your View
We see many incredible views like these from customers each year, but no view is exactly like your own. If you are interested in enjoying enhanced views in your back yard, email us at orders@stairsupplies.com or give us a call at 1-866-226-6536.