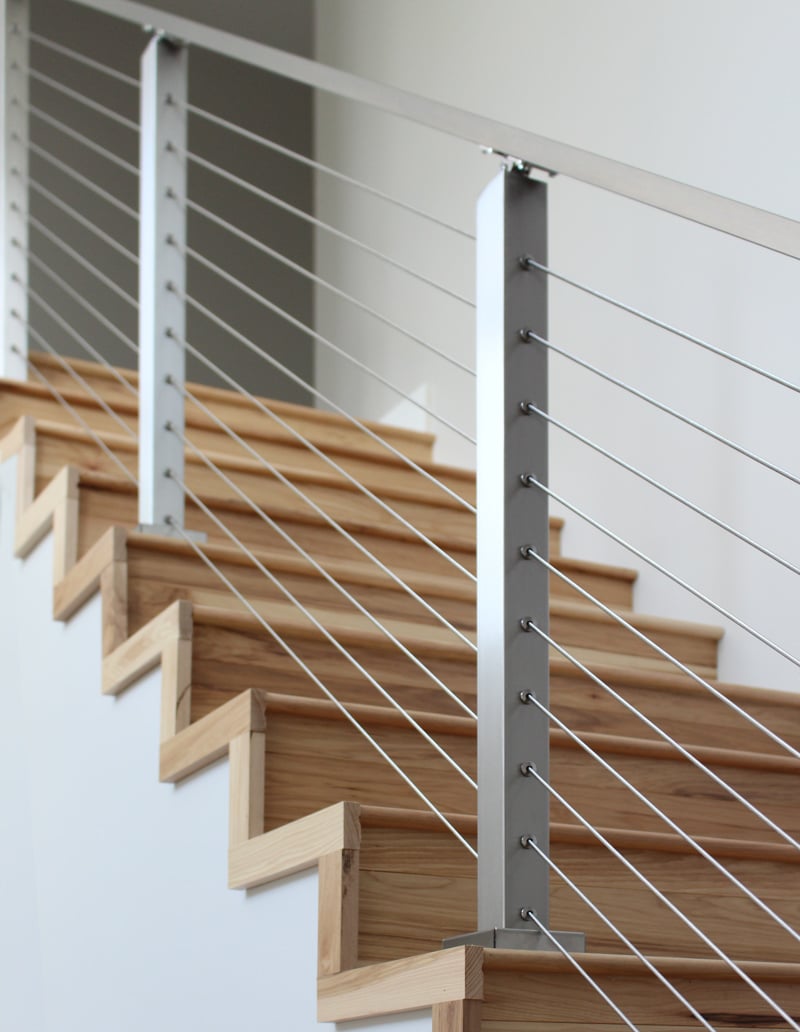 Completed Project Contest Winners Announced!
This summer's completed project photo contest has come to a close, and we couldn't be happier with the results! We received dozens of submissions from all across the country and enjoyed the creative designs everyone came up with for their projects. However, every contest needs winners!
After the submission period closed, a panel of four judges voted to narrow down the entries. Once they agreed on the top 7, they continued voting until the top 3 projects were chosen. This season, we're saying congratulations to Kristen, Ann, and Redford Signature Homes! You can read more about their projects below, but first, we want to say thank you to everyone who entered the contest. We thoroughly enjoyed seeing the completed project pictures come through, and we hope you'll submit more photos in the future!
3rd Place Apollo White Project from Redford Signature Homes
"We were asked by our clients, Dave & Bree to find a cable rail system that would work with the integrity of their new modern home. The massive staircase and catwalk to rooms above the garage was to be made of large timbers painted gray and needed a rail to fit! They wanted a cable rail but were not sure exactly what they wanted.
We located StairSupplies through a Google search and found an awesome product. We all liked the variety that you had to offer. They [customers Dave and Bree] really liked the powder coated rail and it all came together beautifully, as shown in the pictures. The rail speaks for itself and is a true focal point of their home."
-Deb from Redford Signature Homes
2nd Place Wrought Iron Baluster Project from Ann
"My husband and I bought this French country home in 2006 when it was 3 years old. While it was a custom home, the stairway was very unremarkable with its typical white wooden balusters. We kept it that way for many years until we had the time to tackle the staircase ourselves. This gave me time to search photos to get ideas and to search for the right company to do business with. I found StairSupplies on the web after searching "wrought iron balusters".
There is a small iron balcony on the front of our home and I had, also, added an old European foyer light that is bronze in color. I knew that I wanted the softer bronze color as I found the black too harsh for our home. I loved the brushed bronze as it has just a "touch of gold" on the balusters so the color is a little "imperfect" in nature and not so uniform in color. Every baluster is just a little different from the next which adds interest. I, also, like simpler lines and was drawn to the simple straight balusters. However, because our home is French country in design, I wanted to add the scroll as just a little flair. We kept the design simple though.
The staircase in our home is turned so you only see half of it. However, it is a very important half as it is the centerpiece of our home. So, I really wanted the staircase to be beautiful in design because it is viewed from almost every room on the bottom floor of our house. And I also wanted it to be a statement piece that would be noticeable, yet blend in. I used the gallery at StairSupplies to help me come up with the design that was perfect for our home."
-Ann
1st Place Brushed Stainless Steel Project from Kristen
"We discovered StairSupplies while searching for modern railings online and were drawn to the design simplicity of your stainless steel posts. The cable railing provided the modern feel we were looking for and was an economical, but still customizable, option to a hand-made railing from a local company. We opted for the smoother cable for a cleaner, more elegant, look.
Instead of choosing a wooden handrail, we chose the stainless steel because we wanted to keep the beauty of both the railing system and floor separate. The contrast between the wood and metal would not have been as striking if the two were melded together. TJ was extremely helpful throughout the ordering process, answering my calls and responding to emails past normal business hours to help us expedite the process as we were under a tight deadline to obtain our occupancy permit before moving in."
-Kristen
Stay Tuned
While the 2017 summer contest has come to a close, StairSuppliesTM typically holds 2-4 contests a year. Keep your eyes open for information about the next contest this fall, get your cameras ready, and enter for your chance to win! Any completed project photos submitted after June 27 have been or will be automatically entered into the next competition. We can't wait to see what you come up with!