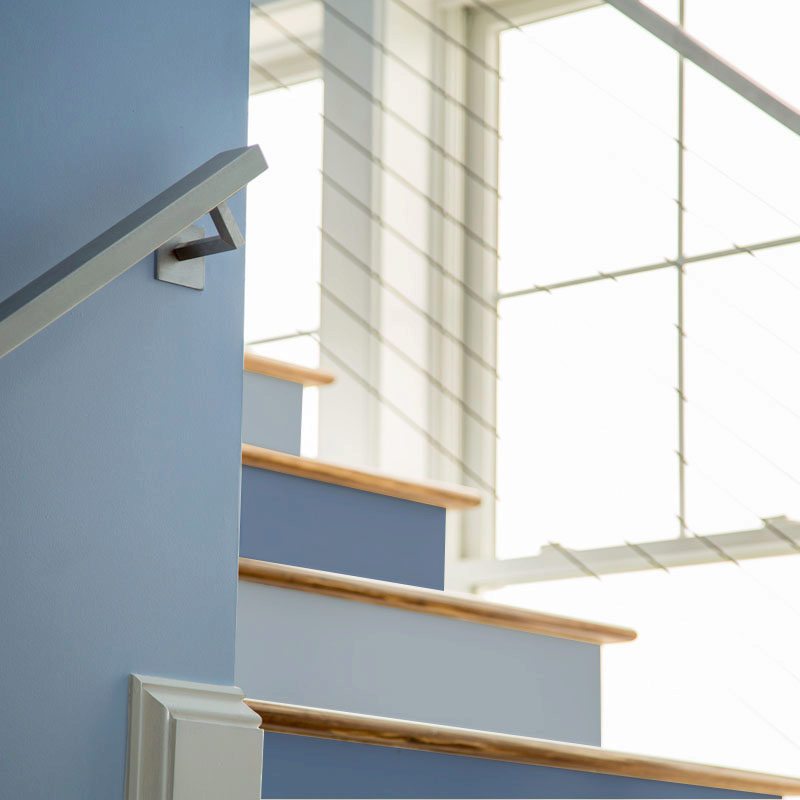 Mix And Match Riser Colors for a Unique Stair Design
Back in the day, when it came to choosing stair riser colors, your choice was "the same" and "more of the same." Fortunately, nowadays unique stair design is in, and multi-colored stairs abound. However, like most good things, this can turn into a "too-much-of-a-good-thing" situation.
The Basics of Uniqueness
Typically, a multi-colored stair riser theme alternates between two or three main colors. For example, if you were to decide on stair riser colors of black and red, one step would be red and the other would be black. A three-toned design might feature a black stair, then a red stair, and then a white stair, and then a repeat of that pattern. This isn't a hard and fast rule, but it provides you with a good starting point for thinking about multi-colored stairs.

Deciding on the Colors
From our perspective, unique stair design starts with a conversation between the designer and the client, long before any stair supplies are purchased.
A client may have a prized antique quilt or a cool abstract painting. That piece can become the foundation for building a color palette.
A Bit About Color Theory
If you're interested in a unique stair design, but don't have set colors, use a color wheel or your favorite colors. Bolder stair designs would embrace complementary colors, which are colors like red and green. These colors stand on opposing sides of the color wheel.
For homeowners who want a softer look, an analogous color palette works best. These would be colors that stand close together on the color wheel like red, purple, and blue.
Other Ways to Choose Colors
Finally, you may want to think about a decorating theme. Some themes like a nautical one have a built-in color palette with shades of blues, creams, and whites.
At StairSupplies, we offer risers from more than a dozen wood species and each available unfinished so you can add your own color. We also offer many different finishes if you decide to install a more traditional staircase.
For information about StairSupplies products and services, contact us today.