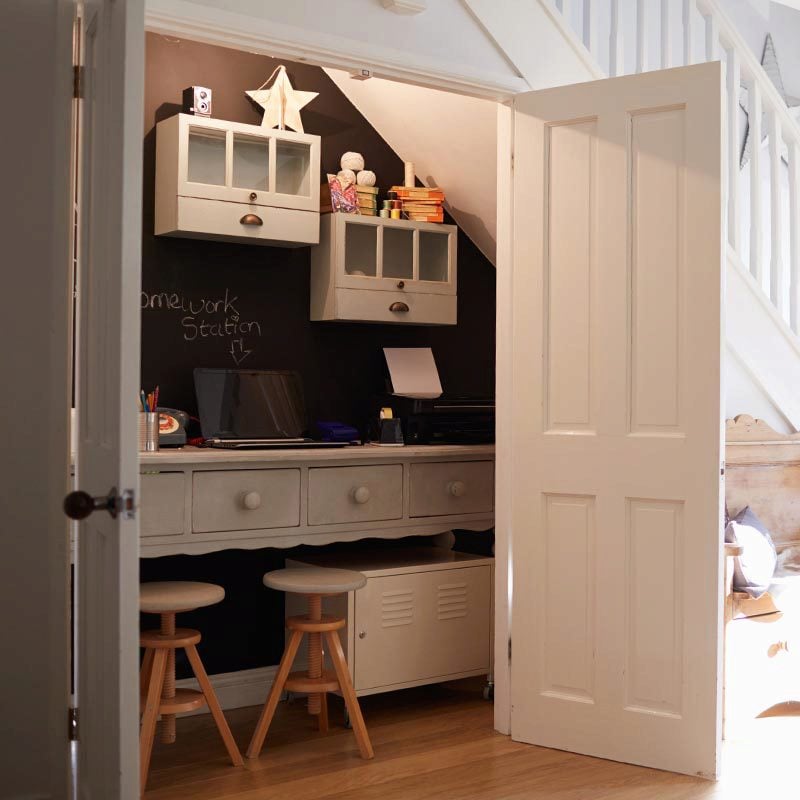 Hidden Workspace: 5 Ideas for Your Under Stair Home Office
Using every bit of floor space in your home is important to get the most value and functionality out of it. One great idea for optimizing space is to transform the niche under a staircase into a small office. Using under stairs office ideas can create the perfect spot for the kids to do their homework. Or maybe someone in your household is one of the 3.7 million adults who work from home. Here are some ideas for transforming a staircase into your own personal workspace.
Plans for the Under Stairs Office
Classical
A classical wooden office desk, a matching wall cabinet on the high end, and short file cabinets at the low end create a flattened but classical office that maximizes the available space for a beautiful, professional look. The addition of some classical molding can complete the look of a formal office, if on a small scale.
Contemporary
A contemporary staircase with no risers, stringers or end spaces allows plenty of light and the illusion of more room. This creates a bright, airy space that can be filled with modern-styled office furniture for a pleasant environment that fits right in with contemporary designs.
Cool
The coolest under stairs office ideas are the ones that show your own style. Plenty of color, a few personal treasures and photos, some functional shelves overhead, and your own organizational flair can make a cool and attractive office space that fits your personality and your specific needs.
Corner
Turning corner space under a stair into an office can create even more functionality. Both the space under the stairs and the adjoining wall can be transformed into usable office space. A desk and filing cabinet fit under the stairs while the adjoining wall can provide space for additional shelves or bookcases within easy reach.


Small
Even when space is cramped, it can serve you well with the right under stairs office ideas. A floating shelf can serve as a desk that creates a modern style, while a single bookshelf or stacking cubicles can extend into the open space to create additional storage space and functionality.
At Stair Supplies, our experts understand that a staircase can be much more than just a way to get from one floor to the next. That extra space underneath can be just as functional and visually compelling as the stairs themselves. Our experienced staff can recommend ideas and products that help you optimize the enjoyment you get from a staircase.
For more information on our products and services, visit our resource center. Feel free to contact us with any questions or ideas relating to the design and construction of your staircases.