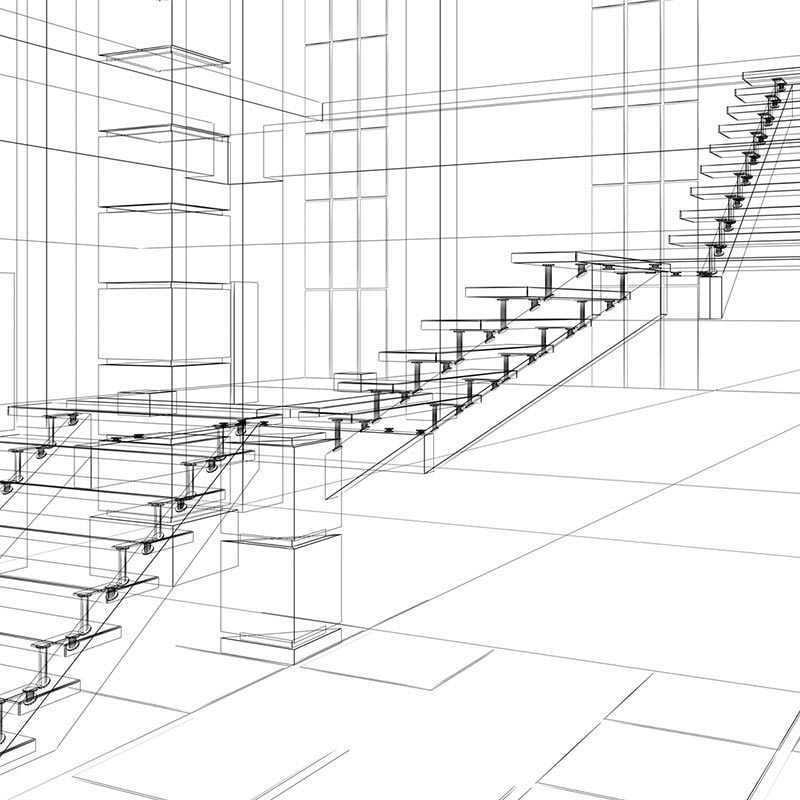 Looking For Help With Stair Design?
Are you looking for help with stair design, but not sure where to look? Stair Supplies has years of experience in creating custom stair designs for many needs. Sometimes you're looking at compromises as certain choices may not work well with others. But here are some basic points to think about with stair design.
Research before design
You want a staircase that's visually appealing, but made to last as long as the building itself. You want a stair that expresses your style, but in most cases you have to comply with certain regulations or local building codes, so these have to be considered during design. OSHA, for instance, has some specific rules regarding stairs. For help with stair design, this is one of your first stops.
Building Codes
Building regulations may establish specific guidelines such as minimum width, number of steps in a flight, height and position of balusters, and head clearance above the steps. They may also dictate the location of the stair in compliance with fire codes. The stair has to be structurally sound, which means getting an engineer's approval.
Common Sense
You want to build stairs that make the most sense for its users. For instance, if you're building stairs between a garage and an upper-storey kitchen, such as a recreation room or in-law apartment, you'll want it to be as direct as possible to manage groceries, sports equipment, luggage, etc.
General Guidelines
Spiral stairs look interesting and take less space, but think hard about who might be using them.
Never make a stair less than three feet wide.
Always have room for a clear space at least 3 feet in diameter around the top and bottom landings.
Arrange proper lighting. High windows or skylights can brighten otherwise drab stairwells.
Calculations
Stair Supplies provides some resources and guides on getting exact measurements. Determine how much room is available where you want to build or replace existing stairs. Consider the run (total length of the staircase), the rise or slope (elevation over distance) and the height and depth of the steps to determine how many it will take to cover the distance. If there's not enough length, you'll have to build in a landing and change direction.

Aesthetics
If you've planned everything else out, it's time to think about what you want stylistically. Do you want something plain and functional, or more dramatic and compelling? StairSupplies carries a wide variety of products such as wrought iron balustrades, quality woods and molding so that we can create any look you want. The important thing is that the stairwell be both safe and functional.
The specialists at StairSupplies are focused on designing, creating and building staircases on the principle that our customers want their homes to be places of beauty as well as functionality. But many people don't realize all the possibilities and need help choosing the right woods and materials that best fulfill their vision. Bring your ideas to StairSupplies and our technicians will find a way to make them a reality. If you need help with stair design, we're here for you.