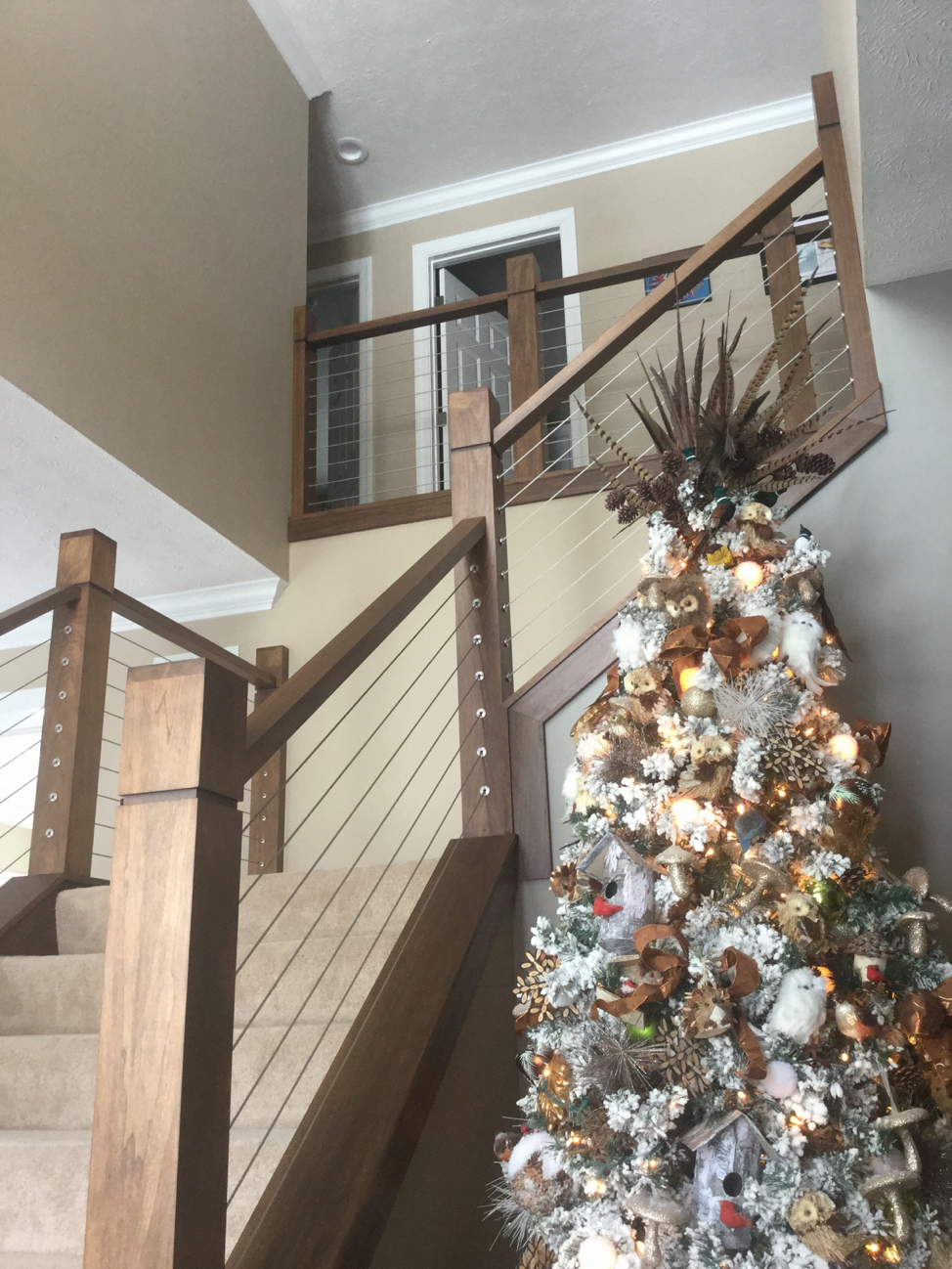 Split Box Newels: How to Transition your Handrail
When designing your stairway, you must consider how your handrail will end once it reaches a wall. For stair designs utilizing Box Newels, a great option for handrail wall transitions is a Split Box Newel.
To achieve a consistent look for your staircase-to-wall transition without making it appear overcrowded or bulky, we offer the option to split your box newel in half, providing you the same beautiful newel look with a much smaller profile.This thinner box newel is attached directly to the wall and handrail may be secured into the split box newel employing the same installation techniques used with whole newel posts.
How Box Newels are Split
Our highly-skilled woodworkers start the process of splitting a box newel before it is fully assembled with trim and finishings. The body of the newel is divided vertically on a table saw, then the two sides are assembled individually — for newels in the Colonial Elegance Series, the base and top portion are connected, followed by trim details.
Once constructed, the open edges of each half newel are smoothed on the joiner to create an even surface for installation. The cap of the split box newel undergoes a similar process. At this point, both halves of your completed split box newel and cap will be stained and finished to match the rest of your box newels. For your convenience, the finished split cap is shipped unattached from the split newel, ready for your precise placement on-site.
How to Mount Split Box Newels
Split Box Newels are simple to install. First, identify the exact location where the split newel will be placed. Then, apply a liberal amount of adhesive to the split box newel and press it against the wall. Follow with a few finishing nails to hold it in place. Allow the adhesive to set, then install handrail directly onto the split box newel.
Benefits of Split Box Newels
Split box newels can add a great deal of character to your stairway. Box newels project a strong and sturdy presence, and consistency throughout the design is important. Split box newels used in conjunction with full-sized newels maintain a cohesive style, even during transitions. As you can see in Completed Project # 138, these homeowners have even used a split box newel against a wall with no transitioning handrail. This method creates a visual balancing effect and protects their wall when using a child safety gate.
A variety of balusters look excellent with split box newels, including wrought-iron balusters, wood balusters, and cable railing systems. If you have any questions about transitioning your handrail, please contact us. Our team of experts would be happy to assist you on your project.