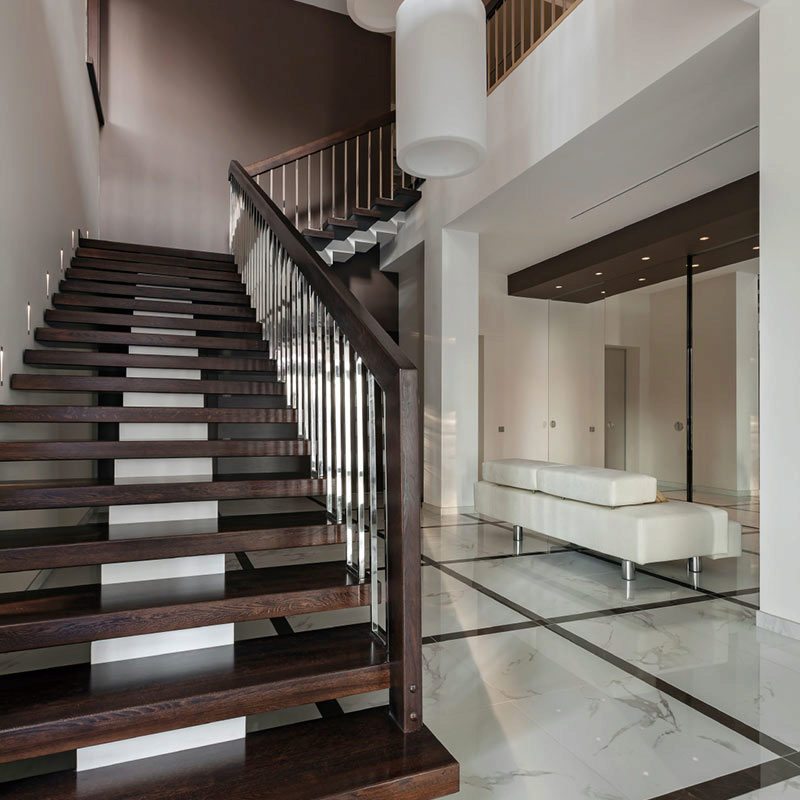 Want To Float? Choose Thick Treads
Floating and open staircases create a modern look that has become popular with homeowners in the last few years. The look evokes a minimalistic feel to the staircase which stands out because of its lack of structure.
Traditional staircases feature elaborate railings and newel posts to draw the focus. In the open stairways, the thick treads are the centerpiece. Whether cantilevered from the wall or enclosed with a simple railing, the open staircase is all about the tread. Selecting the right tread is important. Most designs call for thick treads. A more substantial tread gives more of a contrast to the openness.
At Stair Supplies, we are the industry leader in manufacturing thick treads. We carry top quality treads at a variety of thicknesses. Our thick treads start at 1 ½-inch thick and increase to three inches in thickness. Every thick tread can be made with a hand scraped or smooth surface (distressed finish coming soon). Standard sizes are 11 1/4 inches deep by 36, 42, 48, 54, 60 or 72 inches wide. However, thick treads can easily be made in any custom size that you require.
Stair Supplies offers its thick stair treads in more than 20 wood species including red oak, American cherry and hickory. They also have nearly as many finishes to suit your taste and needs.

The Stair Of The Show
Our thick treads are designed to be the showpiece of the open staircase. All six sides are sanded, and every edge is finished with a 1/8-inch radius. Thicker stair treads will give you extra strength and beauty in your design. Stair Supplies can custom cut your treads to your size specifications and can custom route the bottom of the treads to flush mount brackets.
Stair Supplies offers you a full line of treads, railing systems, wood and iron balusters, molding and parts for all you staircase needs. For information about our extensive products, fell free to contact us today.