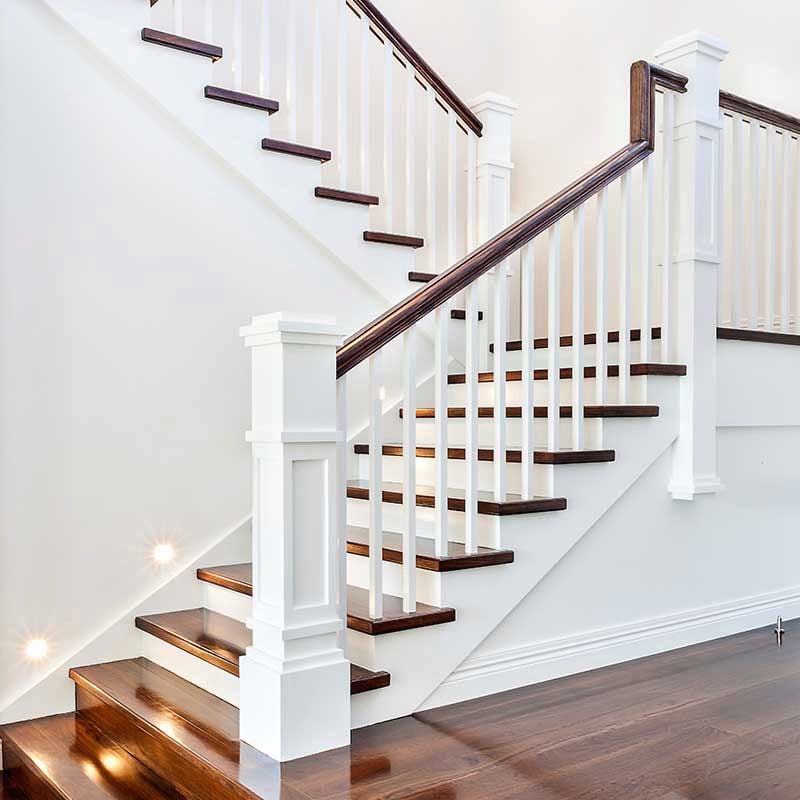 What You Need For A Craftsman Style Stair Remodel
The Craftsman style of architecture and furniture design focused on clean lines and exposed workmanship. Despite the lack of ornate design details, the rich wood tones give the hard angles of the style unexpected warmth.
You can get a touch of the style with a Craftsman style stair remodel with StairSupplies' staircase balusters, newel posts and stair treads.
The Craftsman style started just before the turn of the 20th century and was soon a popular design for both middle-class and high-end architecture. The style continued inside the home including Craftsman designed furniture.
StairSupplies' Craftsman style stair remodel products are perfect for the restoration of a vintage Craftsman home or the addition of a Craftsman's touch to any home.

Simple, Yet Elegant Design
Our balusters, which are also called spindles, are made of solid wood. Our selections vary from simple square balusters to more geometric designs. We also have balusters with understated detail.
The Craftsman newel posts we offer also come in simple, understated and more elaborate designs, including our "Extreme" newel post.
StairSupplies also features our Craftsman style stair treads. We have replacement treads that fit staircases designed to accommodate carpet. The treads are available in different widths, or we can custom make them to your desired width and thickness. We also have hand-scraped versions of our Craftsman treads.
StairSupplies offers its products in more than 20 wood species including red oak, American cherry and hickory. They also have nearly as many finishes to suit your taste and needs. You can also purchase unfinished products and finish them to match existing wood color.
StairSupplies offers you a full line of treads, railing systems, wood and iron balusters, molding and parts for all your staircase needs. For information about our extensive product selection, fell free to contact us today.