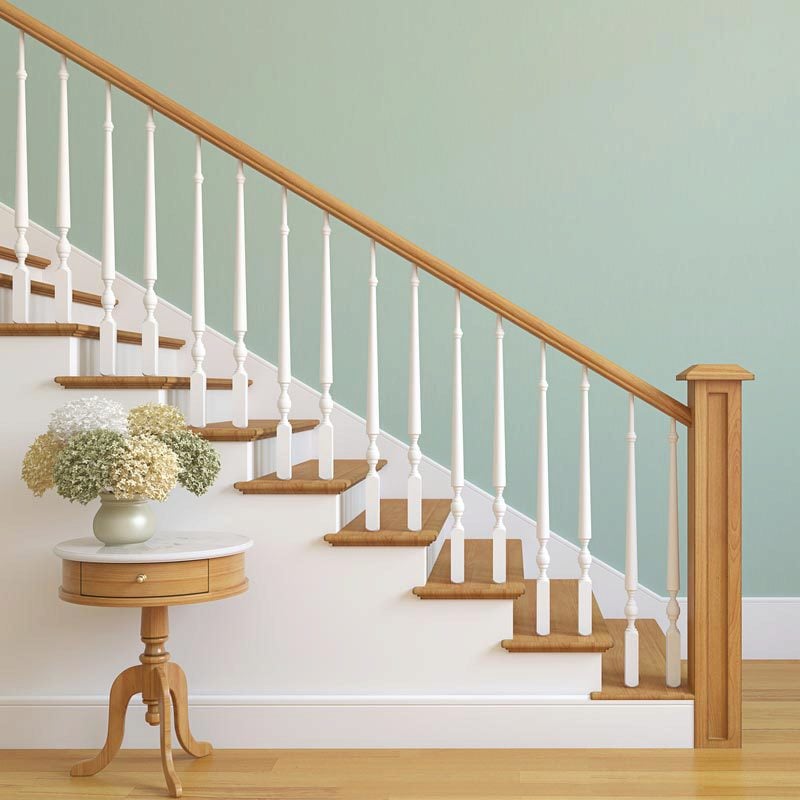 Tips For Painting Your Wood Staircase
When it comes time to remedy wear and tear on your wood stairs, you basically have two options: refinishing the wooden surface or painting. Done correctly, repainting is generally cheaper, faster and easier.
Are You Painting Your Wood Staircase?
Painting a staircase: This is something most people accomplish in a day or two. Just choose your colors and buy a quality paint that dries to a durable finish.
Carpeting
If your stairs are carpeted, you may have worn or stained carpeting that's unattractive looking. The first step is pulling up the old carpeting to get a look at the state of the treads. In many homes, the treads may be particle board or plywood. If this is in good condition, it can be repainted.
If you want something more durable, you could consider replacing them with a harder material like new stair treads. While new carpeting can help absorb the wear, it will just wear out again. Sometimes a quality floor paint is a better answer.
Preparation
Without the carpet in place, you may find gaps between the riser and tread, or elsewhere on the staircase. If the gaps aren't severe, fill them in with an expanding foam product made for the purpose. If necessary, you can apply some spackle after drying to ensure a smooth surface. Let it dry completely before painting. It might also be a good idea to have some wood putty for filling in nail or staple holes.

Use A Nap Roller
Painting a staircase: Carefully vacuum the stairs first. Then, starting from the top, apply the paint to the risers and treads using a 3/8″ nap roller to provide even, smooth coverage. Just be sure to apply the paint as evenly as possible and watch for any dripping on the risers, which should be immediately blended in before it can dry. You may want to paint the tread and risers two different colors. Be sure to keep family and pets clear until the paint is completely dried.
Stair Runners
To help preserve the paint, you could install a stair runner that covers the central part of every step. These come in a variety of materials, from all-weather carpet to vinyl, and in different colors and textures.
Stair runners can provide decoration, comfort or both. For instance, softer materials will be less noisy and easier on feet or tired joints. Thick and textured runners may provide better footing, but runners that are too soft and thick could lead to falls. Choose one that reflects not only your taste, but the people who use the staircase.
Repainting a staircase is a good option provided there are no missing or damaged parts. At Stair Supplies, you'll find not just a variety of paints and products, but beautiful pieces that could give your home a whole new look. Contact our design experts to discover more possibilities, or consult our useful guides and tutorials to get the best results from your DIY stair project.