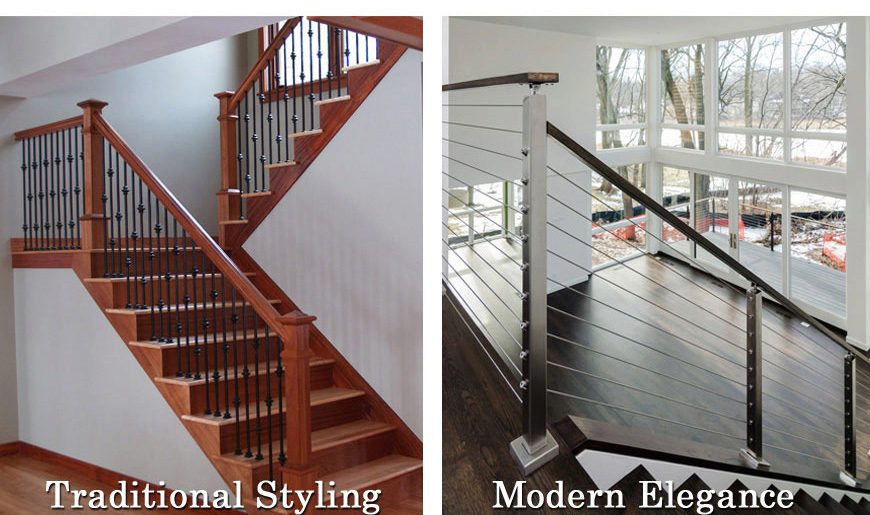 StairSupplies is a leading stair part manufacturer and online vendor for high quality treads, stair railings, handrails, wood & iron balusters, newels and other stair supplies. Our years of expertise can help through your stair renovations for both exterior and interior stair remodeling. We have the manufacturing capability to produce thousands of stair part designs and styles in over three dozen wood species and the wood products that we manufacture will arrive defect free, with no laminating or veneer, and are ready for a light sand then stain. We at StairSupplies™ offer the widest selection of stair parts in all sorts of wood types to match your beautiful stair creations.
At Stair Supplies we know that safety is important to you, which is why our wrought iron balusters offer lead free powder coating and faux finishing. We have designed iron baluster patterns for hundreds of stairways around the world. If you looking for wood balusters we have those too. Our wood baluster designs come in over 25 types of wood. They can be custom ordered to match your existing stair designs and with your preferred finish.
Find stair railing parts to craft beautiful stair creations. Our premium stair handrails are glued and milled with precision carbide cutters and manufactured to withstand extreme tight tolerances. We offer premium solid handrail railings without joints and at a great price.
Stair Supplies manufactures turned and box newels that are architecturally correct and pleasing to your eyes. Our box newels are manufactured in primed and stain grade wood, and offer extended bottom blocks for custom sizing. If you're not looking for wood newels, our wrought iron newels come in custom sizes and are powder coated to match our stair balusters, beautifully.
Our cable rail systems offer both interior and exterior cable rail solutions for that elegance or modern look, at a cost effective price. We offer complete cable railing fastening systems for every type of wall or post including stainless steel, aluminum posts and more. We also offer metal handrails to match and in all wood types as well. Check out our helpful cable railing DIY videos and instructions.
Our stair treads come in several wood types and can be manufactured to match each custom tread, starting step, platform, or winder treads, as different stair parts can be molded from the same batch of wood. StairSupplies™ stair treads offer beautifully crafted design, with consistent color, and high quality craftsmanship.
We have assembled an expert team of craftsmen who design and create based upon your requirements and taste. Your wood stairway will be crafted in the USA by highly skilled craftsmen who have extensive experience in building a home with architectural details and personal character. Stair Supplies is frequently specified by home builders, architects, and interior designers to revamp the appearance of the stairs. We give guidance in designing your stairs, the suitable wood species for your application and even help you to layout your iron balusters. Our craftsmen care and are very passionate about creating an elegant and beautiful stairway. We manufacture every wood stair part with the most expensive tools in the world, our hands. We carefully inspect each piece of lumber that enters our shop and cut it skillfully to create amazing and praiseworthy stair parts. We take the time to hand sand and carefully inspect each piece that we produce so that you will be thoroughly satisfied.
Stair Supplies welcomes its customers with an experienced and courteous staff of people. Our staff is industry experienced, and remain always ready to help. We understand building codes, aesthetics and how to weave both of them together. The work done by our craftsmen or design staff is unequaled in accenting your home's exterior and interior.