Wood Posts: Cable Railing Kits & Components
Buy Hardware & Kits for Wood Posts
Shop wiring railing hardware for your wood post system. Cable railing wiring systems and guardrail are built specifically to maintain the safety of your system. Cable railing wood post kits are the ideal choice for outdoor spaces. The railing hardware will secure your deck or balcony railing for years to come. Hardware for stairs is a great modern choice — because it's simple to assemble and it is perfect for the DIY homeowner.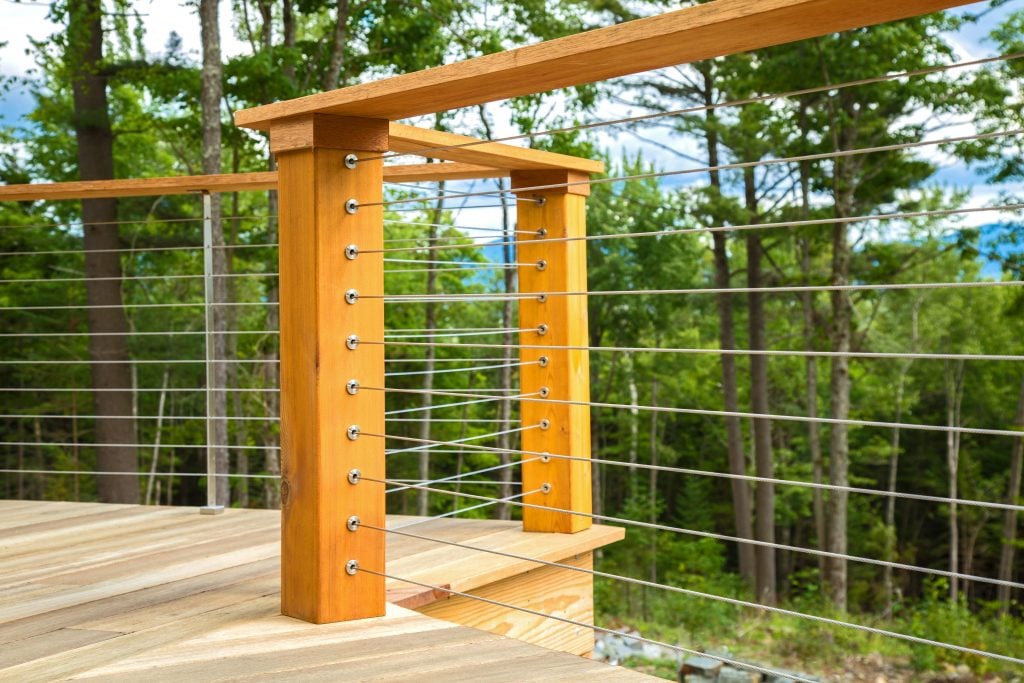 How are wood posts different from metal?
Metal and wood posts are two choices that homeowners will pick for a variety of reasons. Aesthetically, metal posts give off a more industrial look, while wood posts tend to look more traditional. StairSupplies metal posts come in either steel or aluminum, and they are pre-drilled at the exact measurements you need for your project. StairSupplies also offers kits that contain all the hardware and components you need to install stainless steel cable into both metal and wood posts.
How do I install cable into my wood post?
To install cable railing into your wood posts, start by securing your posts at the proper spacing. Install intermediate posts as necessary, then drill holes in each post. Run the line of cable from the end posts through the intermediate posts, all the way to the terminal end post. Once the lines of cable are secured in the posts, you will tension the cable.
How far apart should wood posts be?
To comply with railing code, wood posts should not be further than 4' apart. It can be tempting to place them further apart when you are spacing the posts, but remember that 4' is the distance that will allow for the proper tension of cable. Any further than that will cause the cable to deflect dramatically.
How do I tension my kits for wood posts?
To tension your cable for wood posts, you will first measure the distance from the outside of one post to the outside of the other. Mark the cable, cut, and crimp it, then slide the cable into the threaded crimp fitting. Thread the cable through each post, putting the proper sleeves on the cable.