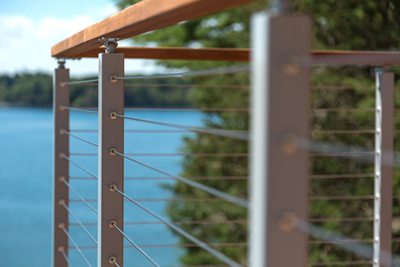 Viewrail Cable Railing Named IBS Finalist
Viewrail, the stainless steel cable railing line from StairSupplies™, was recently honored at the Best of IBS Awards held during the International Builders' Show in Jan. of 2017. According to the IBS website, 28 industry and media judges made our cable railing system one of five finalists in the Best Outdoor Living Product category. The IBS website also reveals that they received more than 400 entries across nine categories for the 2017 awards.

Len Morris, the owner of the company who established StairSupplies™ in 2001, was thrilled by the Viewrail line's performance at the show.
"Our team has been perfecting cable railing systems for years, so it was great to see that work recognized at IBS." When asked about what he thought set Viewrail's cable railing apart this year, there was little question in Morris' mind.
"I think people love our ability to hide fasteners within our posts," said Morris. "Customers want our cable railing because it doesn't obstruct their view. We say that it's a stand-out product that's designed to blend in, and because our fasteners don't stick out of our posts, we're able to deliver on those promises."
What's New?
StairSupplies™ will be presenting the Viewrail line at IBS again in 2018 at booth S615. Morris is excited to display the newest additions to the collection alongside some existing favorites.
"We are really expanding our product line in 2017. We're introducing glass and rod railing to our collection. We're launching a floating stair system. There's so much coming this year, and we're excited to show it to customers at the show."
Visit Us at IBS
IBS is the official builders' show of the National Association of Home Builders (NAHB). The official IBS website boasts that the show, "is the largest light construction show in the world…attracting more than 60,000 visitors from more than 100 countries." In addition, over 1,500 manufacturers and suppliers present at the show each year, allowing attendees to enjoy the wealth of new, exciting products hitting the market.
The 2018 show will once again be in Orlando, Fla. from Jan. 9-11. Aug.-only registration opens on Aug. 31 while early registration is available on Sept. 1. Visit the IBS website for more information, or contact an IBS representative directly with specific questions by submitting a contact us form. We'll be there at booth S615, and we can't wait to see you at the show!