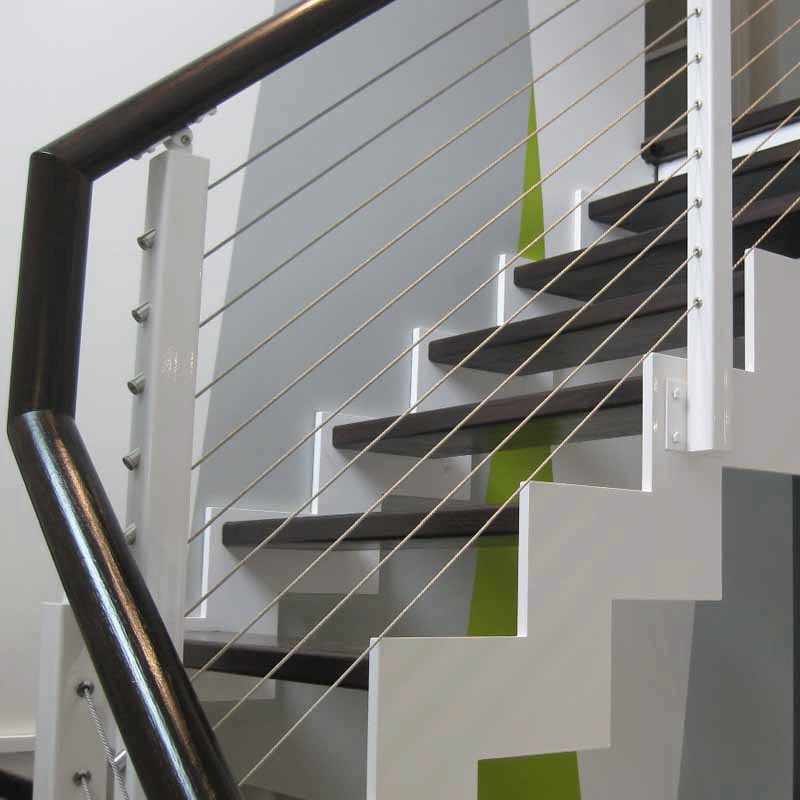 The Latest In Stair Design Trends
Two hot stair design trends include cable railing systems and thick stair treads. While each is all the rage separately, combined, the duo makes for a stair design exacta.
Discover how each stands on its own and the magic they create when put together.
First, The Cable

Cable railings offer a clean, modern look and are popular for decks and terraces, especially those that look over a vista. The thin cables allow for an uncluttered view of the scenery while affording safety.
Made of high-quality stainless steel, cable railings are perfect for the outdoors, but these railing systems also are popular indoors. Used for staircase and balcony railings, the cable systems offer the same open view and add an industrial touch of design.
Now, The Stair Treads

Often overlooked, stair treads have come into their own with the popularity of thick treads. These treads are used to create floating staircases and create a focal point not often associated with stair treads.
The thickness of the treads works to further the illusion of a floating staircase. Thick treads also are used in open staircases where traditional risers and cases are left out. The treads offer an architectural component as well.
All Together Now
When cable railings and thick stair treads combine, they give a modern, industrial look with the balance of warm, traditional wood creating a distinctive, elegant design.
Because of the airy design, these staircases are perfect for more confined areas and open floor plans.
StairSupplies offers both cable railings, thick stair treads and the latest in stair design trends. Our treads are available in more than 20 wood species including red oak, American cherry and hickory. We also have nearly as many finishes to suit your taste and needs.
For information about our extensive product selection, fell free to contact us today.