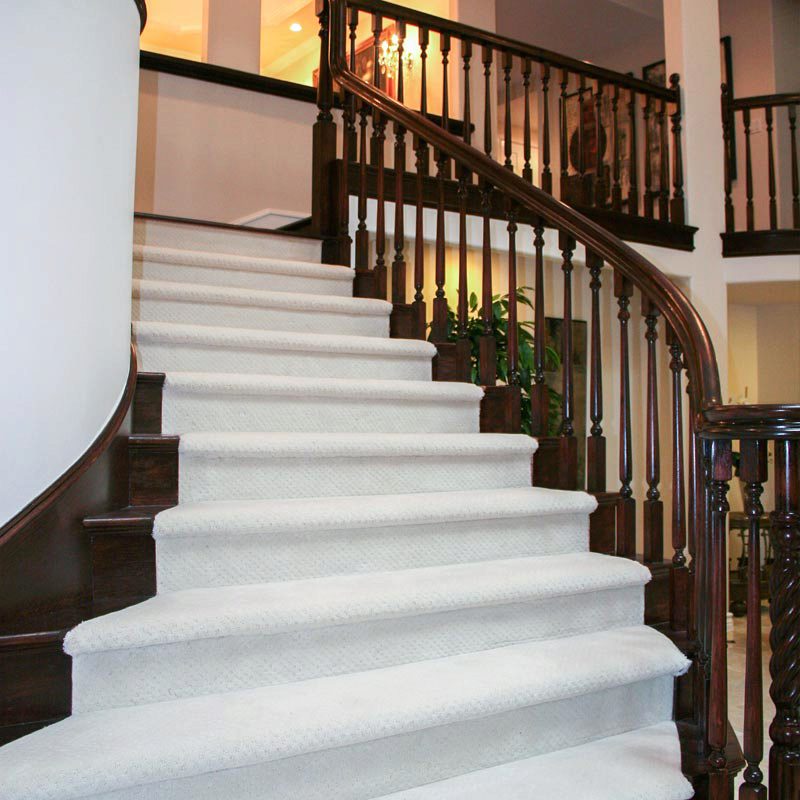 Make Your Wood Stairs Less Slippery
More than 30,000 deaths a year are attributed to accidental falls, and most of these take place on stairs. Most home staircases are constructed of wood. Wood can present dangerous conditions if treads are worn or over-polished. However, there are some easy methods to make you wood stairs less slippery.
How To Make Your Wooden Stairs Safer
Carpet
Carpet can add traction to wooden treads. You could either add a runner to cover all steps or add individual carpet treads to each step. The latter will use less material and save money. In either case, the carpet should be low pile and attached flat to ensure all edges are held tightly against the wood. Loose or high-pile carpeting could catch toes and cause more injuries than they prevent.

Abrasive Strips
One low-cost option to make your wood stairs less slippery is to add abrasive strips. The sticky underside adheres to the wood while the top presents a rough surface for stable footing. They are available in a wide selection of styles and colors. However, these strips can loosen or wear out over time, making them both unsafe and unsightly. You may want to use them on a back stair that guests won't see, but they should be replaced when they loosen or show signs of heavy wear.
Coating
Non-slip coatings in liquid form are applied with a brush. One idea is to mix sand into paint before applying over the steps to make a rough surface. However, coating products will hide and perhaps even ruin fine wood surfaces. If your stairs are plain or already painted, coating can be added in various colors and simply be reapplied if it wears out.
Remove Wax
Some hardwood stairs and rails become slippery through constant waxing or wood soaps. If this is the case, coatings or other solutions might not be as effective. Your only choices are to apply chemical solvents or roughen up surfaces with sand paper or plain steel wool. While this may diminish any polished wooden gleam, it will also help make your stairs safer.
Incorrect Size
In some older homes the dimensions of your steps may be a little off, which could cause loss of footing for people who aren't used to that extra inch (or lack thereof). Steps are typically about 7 inches high and 11 inches deep. You might also ensure that the steps are level and not too steep. Your local building codes will determine what's required. If your stairs are not up to code, it may be worth contacting a professional to have them replaced.
At StairSupplies, our experienced specialists understand that your stairs should be safe and functional as well as visually appealing. We can recommend products and solutions that are safe, secure, and meet or exceed building standards. We're here to help you make your wood stairs less slippery. Call us with your concerns, and we can make the right staircase for your home a reality.