Iron Baluster Design Tool

StairSuppliesTM now offers StairArtist® Iron Baluster Design Tool, designed so you can envision what your stairs will look like once you upgrade your home with iron balusters. Simply select the baluster you like, drag it over to the virtual staircase, and drop it into place to create customized patterns and designs! Once you've figured out the pattern, calculate the total number of balusters (typically 3 per foot), as well as the number of each style that you'll need to complete your design. If you'd like assistance calculating the number of balusters you need, or would like help using the design tool, please use the contact form and we'll be happy to assist you.
Once you've picked your pattern, return to our Wrought Iron Balusters offering to order everything you need!
Do you like the look of iron staircase designs? Our iron baluster stair design tool lets you…
Visualize your iron baluster design before you every place an order. The Iron Baluster Design Tool takes the guesswork out of ordering iron balusters. By letting you place any combination of iron balusters on a staircase or balcony, it helps you find exactly what you want and need.
Send your iron baluster design to your friends and family for their opinions by clicking the "Email" button in the top left corner of the screen. You can also send it to our design team by checking "Email Sales at StairSuppliesTM." We will review your design and offer you advice on how to proceed.
Baluster Staircase Designer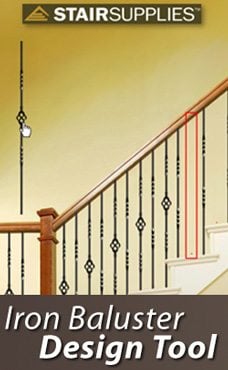 You can preview many of our iron baluster designs, including:
Thank you for reading about our Iron Baluster Design Tool. We hope that you have a great experience designing your new iron baluster system!
If you would like assistance designing your staircase or would like an expert to review your design, let us know! You can email us your design or call us at 1 (866) 226-6536. We are more than happy to assist you in any way we can.