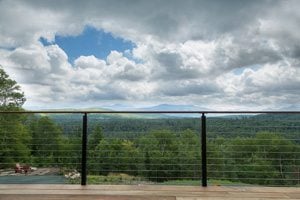 How Viewrail Components Hide Within Your Posts
Viewrail Kits & Components
The Viewrail line's component kits are famous for hiding within your posts, keeping your view clear. Now you can see this process like never before thanks to newly developed animation videos that provide a close look at Viewrail cable railing kit. Take a look at the animations for the Level Tension Kit, Angle Tension Kit, and Inside Post Mount Kit to see how the components work together inside of metal Viewrail posts.
Level Tension Kit
Using only three components, the Level Tension Kit has become a staple of the simplicity and elegance of Viewrail cable railing systems. The Level Tension Kit is made up of a tension receiver, a threaded crimp fitting, and an adhesive sleeve. Together, these components keep your cable taut and ensure that your view is the center of attention in any space.
Angle Tension Kit
Incorporating the same three components as the Level Tension Kit, the Angle Tension Kit keeps your cable taut on an angle run. The Angle Tension Kit also features an angle washer that connects with the tension receiver, allowing your cable to travel up stairs or other angle surfaces.
Inside Post Mount Kit
The Inside Post Mount Kit allows you to start your cable railing run from inside just one end of a metal cable railing post, leaving the opposite end of the post without any holes. A 5/16″ hole allows the washer and cable stop to turn diagonally and enter the post, and then turn to lock into place. An adhesive sleeve provides a clean finish to the cable railing post. The Inside Post Mount Kit does not pull tension, so the other end post in your run will require a Level Tension Kit or Angle Tension Kit to keep your cable taut.
Service at Every Step
We want you to have full access to the details of your Viewrail system installation process. That's why we've made all of our current Viewrail cable railing animations and installation instructions available for you on our website. Visit any Viewrail cable railing product and click its "Installation Guide" tab to see detailed written instructions for installing your cable railing system. Have a question the guide doesn't cover? Give us a call or email us at orders@stairsupplies.com, and we'll be sure cover your questions with you in a thorough and timely manner. Keep your eye out for more animations coming soon, and let us know if there's anything else we can do to to help you in your journey toward new, modern railing.